A new book examines our fashion past and its impact on what we wear today.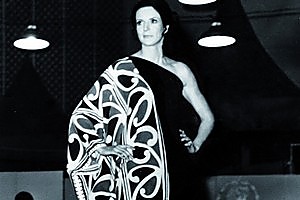 New Zealand fashion has a long and rich history - one that is often forgotten in the hype of the new - with an industry that existed long before the New Zealand Four headed to London in 1999 and made their mark on the international stage. The Dress Circle takes an in-depth look at our fashionable past, going as far back as the 1940s and seeking out "the stories of those who have designed the clothes that fashion-aware New Zealanders have worn". But what are the key moments that have helped shape the industry as it stands today? Co-author Claire Regnault looks back and brings you 16 fashion moments you probably haven't heard of - from trouser cuff angst to Chacha magazine's special indie fashion spirit.
* The Dress Circle: New Zealand Fashion Design Since 1940, Douglas Lloyd Jenkins, Claire Regnault & Lucy Hammonds. $75, Random House, released November 1.
1942: A rebellion over cuffs
In 1942, wartime fabric rationing hit New Zealand.
Most New Zealanders took the rationing in their stride, except when it came to the eradication of trouser cuffs. In an episode described by the Auckland Star as "a rare show of an unexpected and exasperating streak of stubbornness", New Zealand men refused to give up their cuffs. On behalf of their clients, tailors fiercely argued that "if a customer could get his cuffs - he was willing to do without pocket flaps and other non-essentials". Eventually, the Government agreed.
1945: From grease mechanic to the founder of Australian fashion
When young Hal Ludlow nervously mounted the staircase at Auckland's Trilby Yates salon in the 1940s in search of a career change, there were few clues that the aspiring Kiwi designer would later become hailed as one of the founders of modern Australian fashion.
1947: American style hits Invercargill
While Christian Dior's New Look had women squeezing back into corsets, Invercargill's H & J Smith department store offered New Zealand women an alternative style - the "American Look". In December 1947, the store hosted an exhibition of American leisurewear by designers, including Claire McCardell, who championed modernity and designed clothing - pedal pushers, culottes, shorts - for the modern, active woman. The exhibition marked the joint 75th birthday of the Metropolitan Museum of Art and Bloomingdale's department store, and came to form the basis of the fashion collection at The Met.
1940s: Taranaki - the ancestral home of New Zealand fashion
While renowned for its dairy scene rather than as a fashion incubator, Taranaki gave rise to three of New Zealand's most significant post-war fashion designers - Nancy Hudson of Trilby Yates, Bobby Angus and Emma Knuckey.
1950: Waitara farm dreaming
In 1950, after a year's training at the Model House Group in London, Cecelia Emma Knuckey, a farmer's wife and mother of two children from the Taranaki town of Waitara, moved her family to Auckland, dropped Cecelia from her name, and opened the Emma Knuckey salon on the corner of Darby and Elliott Streets. She was 37. She soon became celebrated as a designer of "worldly, highly civilised clothes".
1953: Queen Salote
At the 1953 coronation of Queen Elizabeth II, Queen Salote of Tonga was among the few in attendance willing to brave the light drizzle and travel with her carriage top down to honour the British Monarch. The cheerful Queen Salote, resplendent in her New Zealand-designed finery, captured the eye of the media. While many local designers have laid claim to having designed garments for her coronation tour, Auckland designers Nancy Harvey and Jean Helena (Henri) Burke were behind the significant gowns worn by Queen Salote and Crown Princess Mata'aho to the coronation.
1955: Crowds block street
In 1955 Auckland's Darby St was brought to a standstill by rubber-necking crowds - "probably the biggest...in history" one reporter exclaimed - when visiting Italian model Lully Mariani spent a week as a live model in the salon of designer Emma Knuckey.
1957: Vogue New Zealand
In 1957 British Vogue welcomed New Zealand into its stylish family, launching Vogue New Zealand. The local fashion magazine combined "lifts" from international editions with locally produced content until 1968, when the last elegant edition rolled off the press. The magazine launched the career of Michal Walker (later McKay), who in 1964 became the magazine's editor at the tender age of 21.
1962: The birth of Dinah Lee
The signature look of New Zealand's 60s pop icon Dinah Lee was born in the back room of the popular boutique The Casual Shop, when model and sales assistant Jacky Holme took her scissors to Lee's hair and introduced her "to kooky clothes". Transformed, the singer's voice "suddenly clicked" and she found herself "singing as an individual". While the singer's mother burst into tears on seeing her new Mod look, Lee's look became iconic.
1963: The 'Gown That Jackie Liked'
In 1963 the New Zealand Wool Board whisked a collection of locally designed garments to Washington DC to take part in a Commonwealth Costume Calvacade. The 800-strong audience included the First Lady, Jacqueline Kennedy. As she departed, Mrs Kennedy paused in the corridor to admire the fineness of a rose-patterned woollen evening gown. The 'Gown That Jackie Liked', as it came to be known in the New Zealand media, was by Lea Draysey, an Auckland designer who specialised in evening and bridal wear.
1970: Sexing it up
In 1970 the members of a new collective entitled Tigermoth launched their endeavour by staging a mock protest in Auckland's Queen St and quickly became renowned for their ability to throw a hedonistic fashion parade-cum-party. So provocative was their reputation that a renegade cameraman crashed one of their parades, motivated by the rumour there might be bare breasts on show.
1975: Maori style in Vogue
When Kura Ensor's gown "Tania" caught the attention of the editors of Paris Vogue in 1975, she became the first Maori fashion designer to receive significant international attention. Ensor's gown was featured in the Feb-ruary 1975 issue after editors saw the design in a fashion parade at the Sydney Opera House. The gown was later worn by the country's undoubtedly most stylish politician, Whetu Tiri-katene-Sullivan, the Labour MP for Southern Maori. Tiri-katene-Sullivan routinely combined fashion, politics and culture in her carefully crafted wardrobe.
1981: Clothes that shriek
Wellingtonians say that hairdressers ruled the capital in the 1980s. In the early 80s the kings of the hairdressing scene, Shane Radford, Antonio Fernandez and Derek Elvey, joined forces with the Impulse Dance Company and Kerrie Hughes and Di Jennings of the avant-garde label Svelt to produce a series of theatrical fashion extravaganzas that remain imprinted on the city's memory.
1983: Get ready to cha cha
Photographer Max Thomson and Rip It Up editor Murray Cammick presented struggling fashion designer Ngila Dickson with a makeshift desk and a cheque for $2000 so she could start up her own magazine. ChaCha was the result. Under Dickson's editorship, the magazine became an incubator for new creative talent, including photographers, writers and stylists, many of whom still permeate our creative scene.
1985: Bloody extravagance
In April 1985, Patrick Steel launched his own label in high style at the Auckland War Memorial Museum. The museum was floodlit in pink, the Auckland Regional Orchestra and Wentworth Brewster played, Heidseick champagne flowed and BMWs, Mercs and Porsches jostled for space in the carpark. Fittingly, the show featured a leather motorcycle suit emblazoned with the words "Bloody Extravagance" in jewels. In the same year Janice Finn and Rosemary McLeod conceived the much-loved television series Gloss.
1985: The New Zealand Experience hits Australia
In 1985 Nola Byrne, a Melbourne-based fashion agent, convinced that New Zealand fashion was taking off, presented the "New Zealand Fashion Experience" in Melbourne and Sydney - a showcase of 10 New Zealand designers, including Marilyn Sainty, Patrick Steel, Rosaria Hall and Barbara Lee, which was backed by the New Zealand Department of Trade and Industry, Air New Zealand and merchant bankers Fay Richwhite. The clothes arrived late, the models were the wrong size, the designers were nervous, and the Australians' reception was cool. A decade later, as we now know, it was to all change.