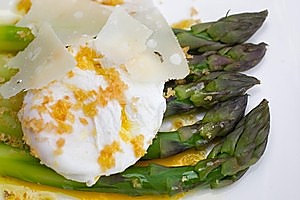 Best buddies
Steamed asparagus pairs perfectly with other seasonal produce such as scallops, beans, new potatoes, shaved fennel or broad beans. Classic wrapped in crispy bacon or prosciutto, or rolled in buttered brown bread. Add a poached egg, hollandaise sauce, and a shave of parmesan for an easy dinner.
Something fishy
Stir asparagus into any dish with salmon or smoked salmon, seared fresh tuna or smoked fish. Add lemon, hazelnuts or fried pancetta crumbs
...Or cheesy
Tossed in risotto or through pasta, in an easy tart or frittata, asparagus teams perfectly with cheeses such as feta, gruyere and camembert. Try adding thyme, marjoram or basil, or roasted baby tomatoes.