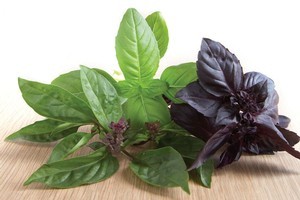 Basil is originally from India, so it likes sun, warmth, and water.
Sow the seeds indoors now and transplant them outside when they have sprouted two leaves.
They can take two weeks to germinate. Sweet basil or Genovese basil is the most common sort for pesto, and for eating with tomatoes, but there are plenty of other varieties including Thai, lemon, purple, and cinnamon basils, all of which are in Yates' basil gourmet mix.
You can never plant too much basil. Pesto uses at least two cups of leaves. The more leaves you pick, the more the plant will grow and if you pick the leaves before the heat of noon they'll have more flavour.
Pluck out the flower heads to stop the plant becoming woody. It's leaves you want, not flowers.
Basil will encourage bees into your garden, but flies hate it, so it's good to have pots of it on the kitchen windowsill or by the door to discourage flies.
For pesto, place one garlic clove, cup of pinenuts, two cups of basil, and cup of grated Parmesan in a food processor. Pour olive oil in while the machine is running. Stir this pesto through pasta. Perfect. Remember to pour some olive oil on top of any pesto you store in the fridge. This will stop it turning brown.