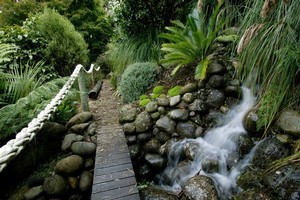 But for a chance conversation at work 31 years ago, Elsie and Ian Lind wouldn't be waking up to the stunning view of native bush they now enjoy right in the heart of New Plymouth.
Ian had always dreamed of owning a slice of wilderness, so when he got wind that a neighbour was subdividing, he wasted no time driving up to the acre-sized section at the end of a right-of-way. What he found was a steeply folded site with a creek running along the bottom and a scrubby pony paddock halfway up.
"Our parents thought we were mad," recalls Elsie, "but a real estate friend said if we didn't buy it there and then, he would".
With a background working for Lockwood, the choice of dwelling was obvious, but what to do with the garden seemed less straightforward. Though scrappy in places, the Linds saw the potential of the substantial native forest cover with its tall pukatea, kokekoke and understorey of nikau.
In fact, it was the distinctive native palms that really clinched the deal, though even after the Linds named the place "Nikau Grove", friends didn't get it as the palms were then relatively young and lost in scrub.
It's taken many years to enhance the hillside, thinning out the weaker trees and carting away fallen ponga and palm fronds by the truckload to create the rich tapestry of leaf seen today. When visitors arrive during next week's annual Taranaki Rhododendron & Garden festival, they should get to enjoy the ripe berries of the nikaus alongside the tui, kereru and even an occasional kaka which feast on them at this time of the year.
While Elsie takes charge of the planting, Ian's background in the engineering industry and his artistic flair has proved invaluable in enhancing the landscape. The bold rope swags which line many of the walkways are unwanted mooring lines recycled from the docks where he works. Likewise, pieces of precision steel which are slightly flawed have found a new life here, welded into bold pieces of sculpture or sometimes - if they are interesting enough - simply resurrected as they are and set into the bush to add a touch of contemporary zing.
But it was when the Linds' three girls finally flew the nest around 2000 and the pet-lamb paddock became free that Ian talked Elsie into letting him begin his most ambitious project - a stream tumbling down the valley side. Loaders and cranes from the engineering business were borrowed to shift soil and bring in river boulders from a local quarry, and today they are so comfortably interspersed with moss and unusual natives like forget-me-nots and dainty-flowered Jovellana sinclairii that visitors find it hard to believe that the entire scene is artificial.
Just as successful are a series of decks zigzagging down the hill, elegantly anchoring the house to the landscape. Boardwalks lead visitors under these through a series of forested vistas. Most dramatic are the lower reaches, where the distinctive buttress roots of the pukateas (Laurelia novae-zelandiae) mingle with naturally seeding kingferns (Marattia salicina) and sculpted kiwakiwa fern (Blechnum fluviatile), which Elsie aptly describes as "green starfish" washed up among the tree roots.
Success in gardening is often a serendipitous affair. During festival week, if the timing is right, visitors will be treated to the sweetly scented flowering of an unusual multi-stemmed forest cabbage tree (Cordyline banksii).
It was just a scrap of a thing passed on by Ian's father which Elsie bunged in half-heartedly in the easiest place she could slip in a spade. Only years later, when the tree suddenly began to strut, did she realise it was right at home in its forest-edge habitat.
Elsie has worked hard to enhance the lushness of the bush setting, but it took a while for the garden's Pacific feel to work itself out. Today, bold plants like puka, giant strelitzia and the odd exotic bhutia palm add to the rich textures of the natives, while pockets of daylillies, cannas and strobilathes add splashes of colour.
"I tried roses and flowering cherries at first, but as they limped along the nikau seedlings just kept springing up in between," says Elsie. "It took a few years for the light to go on, but then I suddenly realised that, from the beginning, I should have let the plants that were already here do the talking."
Elsie Lind's tips and plants:
* Podocarpus henkelii - a totara from South Africa. Though almost as slow growing as our own species, this bushy evergreen is admired for its bright, fresh bursts of lime-green new growth and drought-tolerance.
* Strobilanthes anisophyllus - an evergreen exotic plant with willowy purple leaves - great for covering banks with drought-tolerant foliage. Use it among sheets of clivias and hen and chicken fern (Asplenium bulbiferum)
* Be clear about what feel you want for your garden. Elsie tries not to use mountain hebes or dry-climate yuccas because while they may succeed they would look out of place in this lush, jungle-like gully setting.
* Allow leaves to stay on the ground as a natural mulch - they make for much less work later on.
- The 23rd Taranaki Rhododendron & Garden Festival, Oct 29-Nov 7