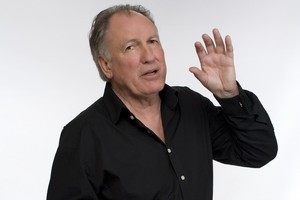 Funny man Gary McCormick is preparing for the pitter-patter of little feet - four, to be exact.
The comedian and radio host and his wife Katherine Cottier are expecting identical twin girls early next year and they couldn't be happier.
McCormick, 58, has two adult daughters, Mary and Celeste, both in their early 20s. The twins will be 37-year-old Cottier's first children.
The couple, who married at Cottier's parents' winery in Wairarapa in 2007, were reluctant to divulge too many details about their impending arrivals.
However, Cottier said they were "super excited".
McCormick said the news was "amazing". He announced the pregnancy on his South Island radio show on MoreFM.
"'My lovely wife Katherine, after some difficulties over the years which people are by and large aware of as she's been a spokesperson for Endometriosis New Zealand, is miraculously pregnant," he told listeners.
"So it looks like I'll be one of the oldest fathers around the town."
McCormick said there was "excitement, jubilation and tears" when the specialist confirmed Cottier's pregnancy.
"And then he says 'hmm, hold on a moment, I've found another heartbeat'. But wait folks, there's more ... despite all the odds they are identical twin girls. It's virtually unbelievable.
"I have a very talented wife in Katherine. Obviously she doesn't mess around. It's instant family time."