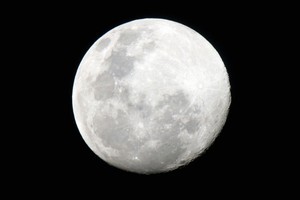 The weather should be fine for the long weekend, but fishing will be pretty average. The culprit is the moon, which affects both weather and fish behaviour. There is a full moon today, and this usually brings settled weather, which is why you can always see the large moon brightly in a clear sky. But it is the worst time of the month for fishing and with tides only average in height the currents will not be running strongly, which does not help snapper fishing.
So what to do for a feed of fresh fish on the first holiday of summer? The answer is to get out early and fish through dawn, or fish late into the evening and some successful anglers fish right through into the night as they believe fish will feed on the full moon but do so in the darkness.
Fishing had been hard close in, but decent weather will allow boats to head out wide. The same applies on the west coast where great bags of snapper have been taken, and the graveyard at the Kaipara Harbour entrance is fishing well for snapper.
Around Auckland if fishing, say, the worm beds, where good bags of snapper up to 6kg were taken last weekend, use a lot of berley and keep it going. Start with a mussel and kina berley which disperses quickly and puts out plenty of scent, and then switch to a tuna berley which trickles out. Try a variety of baits including squid, pilchards and fresh mullet.
Lures come into their own when fish are not feeding strongly, and those who know how to employ soft baits and slow jigs should be able to take home a feed if they persevere.
The wide area from Tiritiri Matangi Island, north to Kawau Island and out to the cables has been holding good numbers of snapper and drifting with these lures will cover new ground.
Or, if a good workup is located then drifting in the area is the obvious approach, but not all workups hold fish under them because it takes time for snapper to be attracted to the activity and a workup that has been going for some time will produce the best results.
Sometimes birds are just sitting on the water, as if waiting for something to happen, and drifting in the area can be just as good as in a full-scale workup.
There are always popular places where people like to dredge for scallops, and it is a good idea to fish where the bottom has been stirred up. It is a bit like underwater berleying and drifting with orange coloured soft baits can work well.
On the Manukau Harbour soft baits are less effective, because they are harder for fish to see, and anchoring and dropping baits even on the shallow banks is worth trying. Use light tackle and cast well away from the boat.
Great Barrier Island has been fishing well, but Little Barrier is the opposite.
There are plenty of kingfish balled up over deep pinnacles around the Moko Hinau Islands, and drifting over them with live baits or mechanical jigging is sure to pick up fish averaging 15kg.
Whitebait are running hot in the lower Waikato River, with one family of five taking 300kg from several stands on the south bank of the river. The traditional whitebaiting rivers on the west coast of the South Island are having a poor season, but rivers around Nelson are fishing well, as is the Hutt River near Wellington.
The West Coast has had five good years over the past 10 years, and three years ago one fisherman caught three tonnes on his stand on the Hokitika River. There is still another month to go, so it could happen yet down there.
Strong winds have made trout fishing difficult on the Rotorua lakes, and back country streams have been unfishable because of heavy rainfall. But when conditions improve such streams and rivers should fish well as they will be untouched, and with high water levels spawning fish will have remained in the small tributaries.
Lake Okataina has been the pick of the lakes with trout to four kilograms in top condition taken. On Lake Rotoiti the west bank is holding fish, and the Ohau Channel has been quiet since the season opened. But smelt will run in large numbers at some point and the fly fishing should pick up.
The biggest trout reported from the channel is a brown of 5.8kg, and a rainbow of 5.45kg was caught on Rotoiti.
More fishing action can be found on the new internet television channel, FishnHunt.Tv.