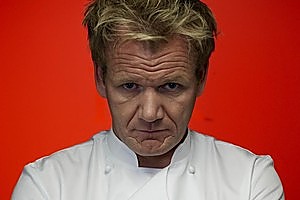 UK celebrity chef Gordon Ramsay says he will make a donation after bowing out of two New Zealand charity dinners for a sick nine-year-old girl.
Ramsay had arranged to come to New Zealand as part of a trip down under where he would be the main feature of two sold out private charity dinners, organised by Duco Events, in Auckland and Wellington next week to raise money for continuing medical treatment in the US for Napier girl Matisse Reid.
The 9-year-old suffers from a rare condition that requires her to be fed from an intravenous drip.
She and her Napier family have been forced to relocate to the United States waiting for a stomach, pancreas, small and large bowel transplant.
The family must be within six hours of the children's hospital in Pittsburgh where Matisse will hopefully get her life-saving transplants.
2000 seats to the dinners had been sold and and organisers Duco Events hoped to raise $100,000. Through his lawyers, Ramsay said he wouldn't be able to come to New Zealand due to matters beyond his control.
Duco's David Higgins said Ramsay's lawyers had told his company the chef wasn't aware it was a charity event, but it disputed this.
"Until a few days ago we were unaware that this was a fundraising event. Gordon has every sympathy for Matisse and will be making a personal donation to Chance2Eat," a statement to NZPA read.
Higgins said earlier his company had spent much of the year organising the dinners, at great cost and effort. He has the support of property investor Sir Bob Jones, who donated auction items for the dinners.
The event was previously scheduled to be held in June, but a few days out Ramsay's agent said he could not attend because his mother had suffered a minor heart attack.
Mr Higgins said his company was consulting lawyers and would be seeking remedies for substantial damages.
Speaking to the Weekend Herald from Pittsburgh yesterday, Matisse's mother, Jodee Reid, said she hadn't told her daughter of Ramsay's last-minute no-show.
"This is a bad situation and it's nice to know we weren't forgotten about [by the dinner organisers].
"I have this child who can't eat who desperately wants to, who loves to cook and she watches all those cooking shows.
"I feel like, if nothing else, he let a lot of people down in New Zealand, he let us down, he let David Higgins down.
"But this little girl who has this life-threatening disorder, he's let her down more than anyone else."
To Ramsay, Mrs Reid said: "Come on, you made a commitment. Are you that big a person you can back down on a commitment?"
Donations can be made to Matisse's fund, Chance2Eat, at the National Bank, account number 06-0701-0299009-00.