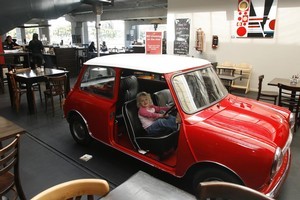 Ark Cafe
347 Manukau Rd, Epsom
With a restored red Mini in the corner of the cafe, and kids' meals with names like the Sponge-Bob Toasted and Crossed-the-road Chicken and Chips, your youngsters will be entertained before they've had a bite to eat. Ark prides itself on being child-friendly, with family-friendly prices.
The Library Cafe
55 Princes St, Onehunga
Feed your mind and your little ones' tummies at this thoughtful spot that takes as much care of its junior visitors as of their parents. The main dining room has access to an outdoor space, and the cafe takes care that its food is healthy.
Cafe Windsor
542 East Coast Rd, Mairangi Bay
Often described as the most child-friendly cafe in Auckland, Cafe Windsor has an indoor play area when it's too wet for the playground outside. It runs Telling Tales on Tuesdays and Bouncy Thursdays, when a bouncy castle is set up. There is also plenty of room for parents to relax.