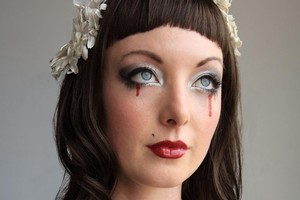 I was the Queensland State champion in synchronised swimming for my age group when I was 10. It may have helped that there were only two other girls in my age group but my mum and dad were still very proud. I did my solo routine to the Fantasia soundtrack. I remember forgetting my nose peg for the first half and having to start again. I had a sparkly sequinned swimsuit and my hair glued into place with a warm pot of gelatine.
If I wasn't an artist I'd be a dancer or a chef. I love cooking.
I have been really fortunate to have made some amazing friends through my lifetime. When I was at high school, Elliot "Askew" O'Donnell and our late friend Anthony Burke, aka Quink, got me into graffiti and really pushed me to paint and do my characters. Ants was also very good at makeup and sewing and brought out my girly side - I used to be quite a tomboy. The late Martin Emond, the first artist I really looked up to was incredibly encouraging.
Being an artist and having a small business is a challenging combo, the times of exhaustion and creative drought and having to keep pushing forward.
That's why I'm eager to separate Misery from myself as an artist. Sometimes I feel like a brand and a little "misery machine" making works that will please my fans rather than just making what I feel like.
I like change and embrace it. I think there is a time for everything and once its time is over it's on to the next thing. There is so much to do and see, change feels like a natural and healthy process.
Travel is important, collaborating with other artists and musicians and working with kids. I will be heading to Thailand in November to work with Burmese migrant/refugee children doing art workshops and toymaking. I am so excited. I believe it will be hugely inspiring for me.
My definition of creativity is finding that place where you stop thinking about what you're doing and just let it flow out of you. It's like a meditative state. It's hard for me to find as there's usually loads of things buzzing in my head but so wonderful when I do.
My happy place is Waimea Bay, Oahu. Surfing, swimming with sea turtles, laying in the sun with a book and my paints and paper, with a chi-chi at my side.
Tanja Jade, formerly known as Misery, presents her last exhibition as Misery at Shed 2, 90 Wellesley St on October 28, before embarking on the collaborative art project littlelotusproject.org