In the thick of competition season, an amateur chef seeks expert advice on making reality-TV magic.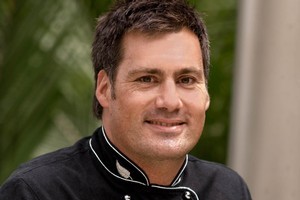 With a little peace and quiet, I have hidden myself at home perfecting the steamed prawn roll I am working on for a live cook-off against a talented amateur chef for Taste Hawke's Bay in a week.
Typically, I am right in the middle of rolling and securing the Chinese pancake, ready to be loaded into the steamer, when the phone rings.
Off goes the steamer and I take an ecstatic call from a Facebook friend who has an audition for the next series of Masterchef NZ. He has concerns that he's not the brightest spark on "puddings", but cooks Asian cuisine like "the bomb". So we go over some tips for great desserts.
The first is to study what top chefs are up to by reading cookbooks like Philip Johnson's Decadence and The Roux Brothers on Patisserie.
You need to know basics like how to make high, fluffy sponges - with room-temperature eggs, by sieving the flour twice, lining the cake tin with non-stick paper and getting the right consistency of butter cream.
You need to learn how different-sized eggs will alter the consistency of choux pastry; or that when making a hot souffle you should use a cornflour fruit base for better flavour and grease the ramekin twice with softened, not melted, butter.
Macaroons need to air-dry after the mixture's been carefully folded by turning the bowl (I often use a lazy Susan for larger batches); chocolate must be tempered to achieve gloss and snap; the addition of a small amount of alcohol to a parfait can give it a creamy edge; and a semifreddo recipe will often get you out of trouble. Use the freezer rather than a fridge to fast-set bavarois and panna cottas.
To conclude my dessert crash-course, it's time to highlight textures. Everyone loves a little crunch.
And make sure you select the right crockery canvas on which to display your work.
By now you'll be exhausted with a sink full of dishes but my final advice is that stamina and a fresh mind is the ultimate key.
Ready, steady, cook
Paul Jobin will be demonstrating at Taste Hawkes Bay on Friday October 22 in the Watties Marquee, Hawkes Bay Showgrounds, Hastings. He'll be in a cook-off against a top Hawkes Bay amateur chef making these prawns spring rolls in just 35 minutes. The winner will be chosen by two audience tasters. For details visit pauljobin.co.nz