Canterbury's Dunsandel Store has published some of its famous recipes in a beautiful new cookbook.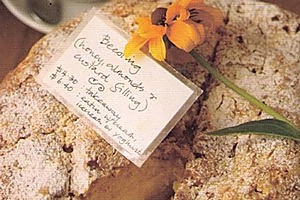 The Dunsandel Store in Canterbury was established nearly 10 years ago as a reinvention of the old-fashioned Kiwi country general store - a grocery and post office combined with a cafe serving delicious home-made food made with local ingredients. The store has built up a loyal following, and the people who run it have now released this book, A Year's Worth, which contains much more than just recipes for the likes of bacon and caramelised onion tart, passionfruit meringue roulade and roast groper with garlic, rosemary and lemon. It is also a true slice of rural New Zealand, with a guide to foraged foods, planting herbs, a plan for a potager and things to do on a cold, wet day.
Together with the art of confit, and pages of baking, is a "recipe" for a go-kart, which is as essential as strawberries and barbecued lamb to the Kiwi summer.
Bee Sting Cake
150g soft butter
300g caster sugar
1 tsp vanilla essence
3 eggs
300g plain flour
2 tsp baking powder
200ml milk
Topping
40g butter
100g sugar
2 Tbs flaked almonds
1 Tbs milk
Custard filling
2 Tbs Edmonds custard powder
1 Tbs sugar
1/2 cup milk plus an extra 1 cups
1 Preheat oven to 160C. Start with the cake mixture. Cream the butter and sugar until light and fluffy. Add the vanilla and eggs one at a time, beating each one in well before adding the next.
2 Combine the baking powder and the flour and fold into the cake mixture alternating with the milk. Pour into baking paper-lined 22cm loose-bottomed cake tin.
3 For the topping, melt the butter and add the sugar, almonds and milk (it will be a sticky mass). Spread this over the top of the cake and bake for an hour in the preheated oven. Check that a skewer comes out clean.
4 In the meantime, make the custard: in a saucepan, mix the custard powder with the sugar and the cup of milk until smooth. Over a low heat, whisk in the remaining milk and continue to whisk so that the custard thickens. When the cake is cool, slice in half with a long knife. Pour the slightly cooled custard over the base and replace the top. Dust with icing sugar and serve.
Be in to win this cook book
A Year's Worth - Recipes from the Dunsandel Store, by Sam Mannering and Annabel Graham, Juno Publishing, $55.
Available from Cook the Books, 81 Ponsonby Rd, Ponsonby, ph (09) 360 6513, cookthebooks.co.nz
They have one copy to give away. To enter the draw, email your name and address to books@cookthebooks.co.nz by Monday, October 18.