Cupcake decorating is a fun and challenging way to get creative in the kitchen. Bronwyn Sell has a go.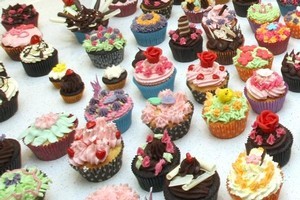 Is this a bit over the top?" I wonder aloud, as I lower a red fondant rose into a nest of piped cerise and mauve flowers atop swirled baby pink icing.
"These are cupcakes," declares Rachel, dismissing my reservations with a wave of a chocolate ganache piping bag. "There is no over the top."
We're having a girly Saturday morning at Kitchen Central, the Remuera cooking school of Wendy McEntegart. Today's cupcake baking and decorating workshop is packed with a dozen women in their 20s and 30s. Our grandmothers would be proud. Our mothers might be a little bemused. I'm a little bemused.
To be honest, this isn't really my thing. Kitchens aren't really my thing. And, besides, I'm a mother of boys. I hate to sound sexist, but I figure that limits my chances of finding excuses for lathering up billows of frothy lilac icing and fondant flowers. Rachel, at least, has a 6-year-old daughter who worships all things pink and fluffy. They even curl up in bed together on Sunday mornings and watch baking programmes on TV.
When did we start caring about cupcakes again? One story goes that Carrie Bradshaw once laid into a bubble of a baby pink cupcake in an episode of Sex and the City and the world still hasn't recovered from the sugar high. (The queues outside the bakery She deigned to patronise still go around the block.)
Ten years later and half a world away, here we all are then. It turns out there's more of an art to baking a good cupcake than my cheating Nigella Lawson no-beat food-processor cupcake recipe would suggest. Crucially, it requires a lot of beating. Minutes and minutes of beating. And the best quality vanilla extract (not vanilla essence) and couverture chocolate you can buy.
We split into two groups. Mine whips up the chocolate cupcakes, using one of those ultra-trendy retro cake mixers that all women's magazine stylists adore; the other attacks the more challenging vanilla cupcake recipe.
Now I could get all pious about the fact that Wendy's chocolate cupcake recipe uses no butter at all. (Just a small matter of half a cup of vegetable oil, which can't be at all bad for you.) But then we make the icing. I thought the recipe's demand for eight cups of icing sugar was surely a misprint. It wasn't.
While the cupcakes are in the oven Wendy cheerfully churns up a fluffy mountain of icing for us to colour and spoon into piping bags. With a twist of the bag we're ready to let our nozzles loose on the several dozen bald little cakes begging to be frothed, swirled, painted and flowered. And this is where it really becomes fun.
Wendy, a trained chef, says a cupcake decorating course is a good introduction to the more ambitious art of decorating an entire cake.
You get to have a play with all the piping equipment, and if you really mess up you can just sneakily eat your disaster cake and start on another, without fear of messing up anyone's birthday party plans.
So we all go a bit mad. The kitchen is splattered with chocolate ganache and sugary fluff in several pastel shades. An outrageous collection of cupcakes begins to assemble on a bench, like a parade of creatures in a Rio de Janeiro carnival nightmare.
We each get to take home our favourite cupcakes. (Wendy says arguments have been known to break out when one workshop attendee tries to swipe someone else's best creation.)
And the following night the 3-year-old - normally a devotee of dump trucks and sandpits - doesn't mind at all that his dessert is topped with a flowery pouf of pink and mauve. "I eat these tuptakes AGAIN," he demands.
Decorating classes
* Kitchen Central Cooking School, Remuera
kitchencentral.co.nz wendy@kitchencentral.co.nz(09) 529 1079
* Milly's Kitchen, Ponsonby
millyskitchen.co.nz info@millyskitchen.co.nz (09) 376 1550
* Sugarcrafts, Panmure
Cake decorating classes
sugarcrafts.co.nz sugarcrafts@vodafone.co.nz(09) 527 6060
* The Homestore, Milford Mall
Cupcake decorating
milford.homestore.co.nz milford@thehomestore.co.nz(09) 486 0086