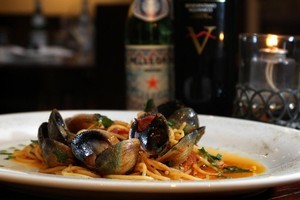 The problem with being devoted to Aurelio Zen, Guido Brunetti, Salvo Montalbano, Salvatore Guarnaccia, Achille Peroni, Piero Trotti, Flavia de Stefano and all the others in the legion of Italian fictional detectives is that you develop an elevated expectation of Italian food. The lyrical descriptions of meals inspire the hunt for similar delights.
With this in mind we set off in hope for O'Sarracino, having noticed it had just won a respected award as best specialist restaurant. We had eaten there a couple of times and were slightly surprised by the accolade. Although we had enjoyed our visits, we hadn't been totally bowled over.
Reading the menu this time did, however, put us back in thriller mode. The lineup offers a wide range of dishes that aren't found in the average neighbourhood Italian but based on the classic repertoire of antipasti, primo pasta and secondi of fish and meat with contorni.
O'Sarracino is Neapolitan but, slightly surprisingly, that most famous regional speciality, pizza, is almost absent.
Although the pizza oven comes into action in the preparation of several dishes like the spaghetti cartoccio, seafood pasta with "a focaccia pizza topping".
From several antipasti options we went for the O'Sarracino of seafood, Neapolitan vegetables and casatiello which turned out to be fairly standard but was lifted by the casatiello, little pieces of bread studded with salami, pancetta and cheese.
A couple of the more unusual offerings caught the eye, like the paccheri al ragu Napoletano of large pasta tubes with a slow cooked ragu with chunks of steak, and the pasta fagioli con cozze with kidney beans and mussels. but in the end I went for the much lauded spaghetti alle vongole verraci.
This pasta lived up to its reputation, simplicity itself with clams and a perfect tomato sauce that was not too thick but which graced the spaghetti.
Scotch fillet features heavily in the meat dishes which seems unlikely in Naples, not the richest area, but we still opted for the tagliata grana e rucola which was another simple little treasure, thin slices of fillet done in the pizza oven with rocket, olive oil and grana cheese. " This meat is delicious" was the instant response which is what you want to hear.
Not quite so pleasing was the insalata mista, a small and disappointing salad. I know it was still winter (no matter what the calendar said) but this was a poor effort.
Again in pursuit of simplicity one of our desserts was a pannacotta, just right and topped with berries, while I went for the recommended pear and goat's cheese. This was pear in a sauce, so reduced as to be of toffee apple stickiness. It was good but let down by the cheese straw decorations which had, perhaps, been hanging around a little too long and had gone rather limp.
I can't say we were lifted to the almost religious heights of Commissario Brunetti's food worship, although it might have been appropriate given the slightly ecclesiastical flavour of this converted funeral parlour. But we did have a very pleasant evening, aided by the excellent service and very lively atmosphere.
This place is buzzing and if it isn't quite Naples the sight of waiters in Mt Eden singing happy birthday in Italian (or it might have been Neapolitan) to some happy Asian girls certainly made it seem like the better side of Auckland life.
Rating out of 10
Food: 7
Service: 8
Value: 7
Ambience: 8
Our meal: $161 for antipasti, one pasta, one main, two desserts and four glasses of wine.
Wine list: Suitably Italian. Our standout was the fruity Nero D'Avola di Silicia and the verdicchio and pinot grigio delle Venezie were good. The prices seemed a bit steep by the glass and a valpolicella, which I used to regard as a modest summer drink, came in at $175 a bottle.
Verdict: An entertaining evening unless you are really hard to please.