This year, Marlborough's Cloudy Bay Winery celebrates its 25th anniversary. Viva speaks to winemaker Nick Lane about the rise and rise of New Zealand's wine industry.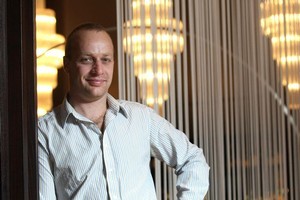 Have you ever wondered what a top winemaker reads in his spare time? "I recently read Perfume, by Patrick Suskind, and then Chandler Burr's The Emperor Of Scent," says Cloudy Bay's Nick Lane, intently, as he buries his nose in a glass of 2008 pinot noir.
"The sense of smell is one of the most powerful senses, but it's the one we know least about. As a winemaker, I often feel like I'm led around the world by my nose. I feel a need to inhale everything, whether it's dishes at a Korean restaurant, unfamiliar fruits at a market in Singapore or sunbaked rocks in the Wairau Valley."
If Lane sounds a bit obsessed about the sense of smell, he's allowed to be. It's his nose for wine which has led him - via a course in oenology in Toulouse - to one of the most prestigious winemaking positions in New Zealand.
Cloudy Bay Vineyards, which celebrates its 25th anniversary this year, played a crucial role in establishing New Zealand's and Marlborough's reputation in the global wine market.
"Twenty-five years doesn't sound like a longstanding winery when compared to centuries-old vineyards in France, but in New Zealand terms, this makes us pretty ancient," he says. "We were the fourth winery to open in Blenheim, and one of the first New Zealand wines to export to Europe." It's hard to imagine now, but in the early 1970s you'd have struggled to get a decent glass of white in this country. Yes, the oldest vineyard dates back to 1851, established by the Roman Catholic Church on land in Hawke's Bay, but winemaking was confined generally to Dalmatian immigrant communities who arrived at the end of the 19th century, producing red table wine for their own community.
"The Dalmatian population did the groundwork, but the Kiwi wine industry as we know it today really only dates back to the late 1970s," says Lane.
Marlborough sauvignon blanc was the real breakthrough, and by the early 1990s, British wine expert Oz Clarke was able to declare that New Zealand sauvignon blanc was "arguably the best in the world".
"It's exciting to be part of the growth of the New Zealand wine industry, and it makes my job a lot easier that most countries in the world know the name Cloudy Bay," says Lane. These days, he spends much of his year travelling, particularly to Asia, where he's relishing the opportunity to educate locals about the pleasures of Kiwi wines. "I had a real penny-dropping moment last year when I walked into a sake shop in Japan," he says, "and found myself in a room surrounded by hundreds of different bottles. The only two things I had to go on were the attractiveness of the label and price. I realised that this was what it would be like for a Taiwanese person walking into a wine shop for the first time."
Demystifying wine-drinking is something Lane is clearly passionate about, and he believes this is something Kiwis are particularly good at. "As a nation, we're a lot more clued-up on wine than many other countries, including European ones," he says. "From a relatively young age, we get to know what grape varieties we enjoy and which regions and vineyards suit our personal tastes."
Lane still remembers the moment he discovered that each bottle of wine offers a different experience to the next. "As a teenager, I went to France to live with my father (a New Zealander then living in France) and at that time I was a blank canvas, looking for something to do with my life," he says.
"As you can imagine, it was the perfect place to discover that I like drinking wine. Later, I found out you can make a career of it. It was as simple as that."
For a man who spends his life smelling, tasting and talking about wine in various corners of the globe, Lane retains a distinctly down-to-earth, Kiwi mindset.
"A lot of people describe wine-making as artistry, but I hate that analogy," he says. "A far better comparison is that of a craftsman, say, a cabinet-maker. Yes, there's creativity involved, but there are rules. If you don't obey the rules of microbiology, chemistry and physics, you end up with cloudy wine or wine that ferments in the bottle. I enjoy the balance."
Lane happily admits that he thinks he's got one of the best jobs in the world, but laughs off any suggestion that his lifestyle is glamorous and jetsetting.
"During harvest I'm at the vineyard every day, and lunch is a pie. Because after all, it's still just lunch down on the farm."
* Cloudy Bay 2010 Sav is available from leading wine retailers nationwide. RRP $35.