Herald on Sunday rating: 3.5/5
Address: 23 Ponsonby Road
Phone: (09) 360 6262
Open: Tuesday-Saturday from 5.30pm; lunch Friday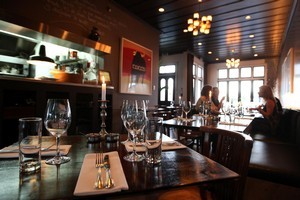 Why is there is no seriously upscale Spanish restaurant in this city? Plenty of Aucklanders would love to relive happy food memories of Spain, but there never seems to be anywhere to do so.
I suppose I will get deluged with complaining emails from the couple of dozen joints that put olives, manchego and jamon serrano on a plate, mark it up 500 per cent and call it tapas. But if there is a classy joint serving a diverse choice of regional Spanish food here, I haven't found it.
For the best part of a decade, Rocco has been a reliable presence on Ponsonby Rd, but I wouldn't have thought of it as a Spanish restaurant if a Google search hadn't thrown it up.
I have read a review that mentioned fideua - a Valencian paella variant that uses noodles instead of rice - and stuffed squid with a bitter chocolate sauce (which sounds more Mexican than Spanish). And on previous visits I've encountered food that is more (sardines; Turkish dumplings) or less (corned beef; black pudding) Mediterranean. However, it wasn't conspicuously Spanish.
And it still isn't. The entrees are headed "primero" and the mains "segundo", the aioli is called alioli, there's a paella and the chef is Uruguayan. But the menu has more Italian words - pancetta, gorgonzola, mascarpone - than Spanish and the food is, at best, decorated with Spanish grace notes.
Authenticity aside, was it any good? Well, yes and no. Five of us were there to celebrate the Professor's birthday and by great good luck we each ordered different entrees and mains which meant, since there were five of each, that we tried everything.
I will spare you a detailed assessment of each dish since that's almost as boring to read as to write, but it's fair to say that for the most part my dining companions, encouraged to be candid, damned with faint praise.
A (fresh, not split) pea and mint soup got a good report, as did the crusty accompanying sourdough, but the pork and fennel sausages (which looked like the superb Authentique brand) seemed a dull entree dish even when served with pancetta-flecked lentils. My entree-size paella was perfectly fine but paella is to Spanish food what butter chicken is to Punjabi - obvious. Where was the flair?
Among the mains, a fillet of beef, done medium, would have been exemplary if it had not been ordered rare; the lamb rack with feta gnocchi got the thumbs up from the birthday girl; and her best mate said the goat-cheese souffle was "too cheesy", which I thought a very silly comment indeed, and told her so.
I went for the chicken, a golden-skinned and juicy-fleshed half-bird, served unjointed, which made it challenging to manage (excuse fingers). The girls gave enthusiastic reports of the desserts, while Grant and I dawdled over sherry and cheese.
In all, the food was good without being great. But I may have found the explanation: university researchers in Manchester have found that noise can inhibit the sensation of taste.
And Rocco - which is at least as much a bar as a restaurant - is bloody noisy. Perhaps the food would have tasted better if the chubby suits next to us had not been bellowing about their gold mines in Mongolia.
As the Professor said: "It's really a place where people go to drink and shout at each other." To which I replied: "You're getting old, dear."
Ambience: Deafening
Vegetarians: One entree, one main
Watch out for: Mongolian miners
Bottom line: Spanish-ish
THE BILL
$464 for five
Entrees $16-$20
Mains $28-$34
Sides $6
Desserts $12-$18