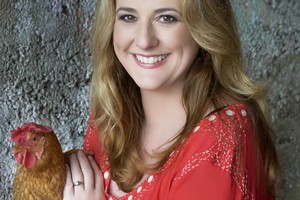 My publicist was delighted when she read my invite list for the launch of my new book. "It reads like a who's who of Auckland."
"Oh, you know, when you've worked in the business as long as I have, you get some very special friends," I cooed. They might be celebrities, but they're great mates all the same."
"You do know Paul Henry never goes to anything unless his daughter wants to go," she warned.
"Oh, Paul will come to this," I said with authority. "I hired him when I produced How's Life. He found his audience on that show."
I turned up to the launch confident it would be littered with Hoskings and Hawkesbys, Holmes and Henrys.
Happy times with the H list. I took along my chicken, Yoko, my constant companion during my publicity work for the book and the most photographed chicken in Auckland.
She should have been in bed perched on the woodpile next to her mate Marigold but instead she cuddled into me.
"I bought Yoko along tonight," I began my speech, "so that all of you who have known me for many years can have that thought, 'I never dreamed I'd turn up to a bar on Ponsonby Rd and see Wendyl Nissen holding a chicken'."
It got a laugh from the gathered crowd.
As I looked around the room I saw people who had known me since the tender age of 19. Brave soldiers who had taken it upon themselves to befriend the loudmouthed, opinionated young woman I was. I saw journalists, writers, PR mavens, librarians and photographers. I didn't see any TV stars.
I thanked my publishers, my many patient employers, my good friends, my kids and lastly my husband for putting up with a woman who has morphed from uptight magazine editor to a stay-at-home chilled-out green goddess who writes books.
"He didn't sign up for the new me. When he met me 15 years ago I was a hard-nosed, foul-mouthed bitch editor who smoked and drank far too much before passing out on the pavement," I laughed.
Everyone turned to look at him as he leaned nonchalantly against the bar.
"Well, you did stop smoking," he said, straight back at me.
He got the best laugh of the night but I didn't mind. I'm used to that.
I'm not used to celebrities not turning up. In the old days when I edited magazines I would host glittering parties full of Shortland Street stars, weather presenters and news anchors. I simply flicked through my covers and sent out the invites, and like little lambs they turned up for the slaughter.
"I'm so sorry more celebs didn't turn up," I apologised to Rachel Glucina, who writes the gossip pages for this newspaper. She didn't seem too worried.
"It's been a big week for them all," she said knowledgeably. "Henry's on suspension, Holmes is covering for him on This is Your Life and Hosking and Hawkesby have holidays."
And that's when it happened. I turned around to see a tall, dark, handsome newsreader duck through the door.
"I wouldn't have missed it for the world," he joked as he threw his arms around me.
"But don't expect me to read the bloody thing. I'm doing a Brian Edwards and not reading books at the moment."
I had never been so pleased to see Simon Dallow and looked around urgently for a photographer. They had left. So had Rachel.
I introduced him to my publicist. "He's a very special friend," I said. "He would never let me down."
She smiled obligingly as she took down the decorations and once again checked on the celebrity hen who had been thrown in the corner in her cage, forgotten except for a bowl of water.
We went home. "Great launch," said my children, huddled around pizza and leftover wine. "So nice to see you resisted the urge to invite all your celebrity friends as some tragic way to increase your mana."
"Yes, wasn't it?" I mumbled before putting my feet up.
* A Home Companion: My year of living like my grandmother by Wendyl Nissen (Allen and Unwin, $29.99)