Applications are open for kids aged between 4 and 10 years old to become professional toy testers for one fun-filled year.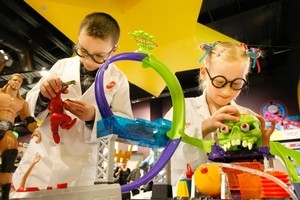 Get up, get dressed, put the hours in at the salt mine, go home, go to bed. Such is the life of a working bod. But sometimes there comes the perfect job at the perfect time in your life and all is well with the world. Such a job landed in their laps earlier than for most, when Connor Williams and Hana Pearce (both aged 8) were selected last year as the first New Zealand Toyologists for multinational toy company Mattel.
"I did cartwheels all across the classroom when my mum told me after school," says Connor from Te Atatu. "I didn't think I'd get it, with all the other kids [applying]. Now I'd really like to enter again this year."
Sadly, the plum posting is up for grabs again as a new batch of kids audition for the trainee role throughout October, being flown to Melbourne for funology training before starting "work" in December.
The pair - a boy and a girl - are sent a monthly package of toys to play with and evaluate, relaying information that is seriously studied by the Mattel marketers.
Finding kids who can evaluate a game and come up with suggestions is harder than it looks. For a start, they have to put themselves in the shoes of other kids, and be prepared to handle the paperwork (doesn't every job have that as its drawback?)
"Hana likes having a job, she's told so many people she has a job now," says her mum, Ginny Pearce. "She takes it quite seriously, and says 'I can't stop now, I'm doing this for my job'. It's been good for her.
"Because she gets so many toys she's not as possessive about [them], she really likes sharing them with her friends. There's much more thinking now about what's on her birthday list - she'll think about whether something has enough to do or whether she'd really play with it."
Eva Williams has found a useful bonus in Connor's job: "He can't play with them until he's done his homework. He's really keen on it being a job, it will be great when he is in the workforce. He knows he has to finish a task."
While Connor suspects he wasn't as thorough as Hana at filling in the review sheets (and he finds it hard to fault his favourite World Wrestling Entertainment collectable figures), the marketers found the kids came up with plenty of ideas. Connor grunted up the capabilities of the temperature-sensitive Colour Shifter Hot Wheels by storing them in the freezer and then using very hot water, while Hana noted "I think Mattel should make a tray to go underneath them with sort of high sides to catch the spills of water. It needs this so you don't get in trouble for getting water on the carpet."
Hana used her 4-year-old sister as a co-tester, or recruited boys from her mum's coffee group for bigger games (she also spotted that Polly Pockets aren't just for girls - pre-school boys love them too). Top pick for both toyologists was the Colour Shifter Hot Wheels, although a re-work of old favourite family game Pictionary also rated.
The kids have also learned another benefit of the working world: it's who you know. An email to Mattel from Hana, who lives in Burwood, Christchurch, after the earthquake yielded two pallet-loads of toys for her to distribute to schools and charities in the region.
Hot tips for this year's applicants
* Hana: You need to be really passionate about toys and you need to be able to say what's wrong and what's right. You need to be honest - it's helped me with being honest.
* Connor: Good luck. Try not to forget the words you are going to say, sound happy and excited. If you have Lego work with that, because there's lots to say.
Situations vacant
Applications for 2011 Toylogists are open for kids aged between 4 and 10 on toylab.co.nz. Download an entry form and submit a one-minute toy review as a video upload.
Applications close at 5pm Wednesday October 20, 2010.