Address: 224 Symonds Street
Phone: (09) 379 9344
Website: squidrow.co.nz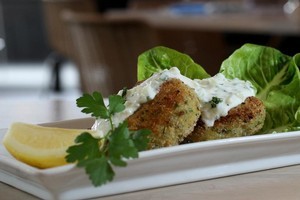 Above the door of Squid Row is the insignia of the Order of the Garter, complete with the motto "Honi soit qui mal y pense" (evil be to him who evil thinks, or words to that effect). Underneath is the tag "Dieu et mon droit", the motto of the British Monarch. Quite what they mean in this context is unclear, but they are beautifully rendered and very decorative.
As is the inside of the building. It was originally a post office, opened in 1930 and built to Government architectural standards of the time. In other words, art deco, and lovely. And still there, which is quite amazing for Auckland.
The surfing pictures around the walls are anomalous, but it is a seafood restaurant, so I guess something of a maritime connection is there.
And it really is a seafood restaurant, or gastro bar, as they have it. It takes a sharp eye to spot any other variety of food on the menu. We were convinced, and ordered seafood.
Bill's fried calamari starter was beautifully cooked, tender and succulent, and the accompanying garlic aioli did not overwhelm the delicate flavour.
I was a bit disappointed to see only two crab cakes on my plate, but they were more substantial than they looked, and even with Bill helping himself, it was a more than adequate starter. Packed with fresh crab, they were succulent and delicious.
To Bill's sorrow, it appeared that either the mussels had not been delivered that day, or for some other reason become unavailable, so fish it was, John Dory with lemon and lime risotto for Bill, and the market fish for me, blue nose on this night.
Now, I am not a pescatorial expert, but Bill has a fair bit of knowledge, and would have taken bets that his John Dory wasn't. The fillets were suspiciously fat, given that John Dory is a slim fish. But he ate most of it, although it was overcooked and therefore dry, as was my blue nose.
The risotto was also overcooked, to the point of mushiness, but it was well-flavoured. My rosemary fried potatoes were excellent and crisp.
Our waiter - and to allow him the benefit of the doubt, it might have been his first night - was less than engaged with us and our surroundings.
When he asked how our mains were, we both said, "interesting." Well, they were to us but clearly not to him, because he never asked why we had said that.
He knew nothing of the history of the building, and given its appeal, I would have thought that it might be a frequent inquiry. The answer, had the waiter cared to look, was on a plaque in the lobby. Again, it might have been his first night.
Undaunted by the overcooking trend, Bill ordered a chocolate pudding with honey mascarpone, and it was the best he'd had for a very long time, he said.
Squid Row seems favoured by the local working population, and a nicer bar would be hard to find.
It's a pity the standard of cooking and service don't match up.
Rating out of 10

Food: 6
Service: 6
Value: 7
Ambience: 8
Our meal: $135.50 for two starters, two mains, one dessert, two glasses of wine and two beers.
Wine list: A good selection of mainly local wines, and an extensive beer menu. Mind you, it is a bar.
Verdict: A reasonably priced seafood restaurant in a beautiful old building. A good meeting place for a group or before a night out.