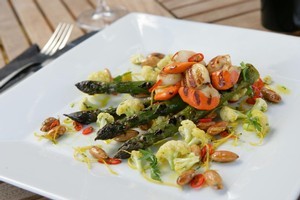 In my opinion, there's no better way to cook asparagus than on the barbie - it really seems to preserve that intense flavour that works so well with scallops. The pickled cauliflower salad brings a hot'n' sour aspect that adds real brightness to this dish.
Serves 4
Prep time: 15 minutes (plus 24 hours' marinating time)
Cooking time: 5 minutes
2 cups cauliflower cut into florettes, as small as possible
Juice and zest of 2 lemons
1 large chilli, finely sliced
1 tbsp white wine vinegar
1/2 tsp sugar
1/2 cup whole blanched almonds, toasted
12-16 asparagus spears
16-20 scallops
Olive oil
Salt and pepper
1 Prepare the cauliflower up to four days beforehand (one day minimum). Place all ingredients - except scallops and asparagus - into a sealable bag with a splash of olive oil and season well with salt and pepper.
Remove as much air as possible so all the ingredients are in contact with the marinade. Place in the fridge and turn the bag over two to three times during the first 24 hours.
2 Preheat your grill on high.
3 Pat the scallops dry with paper towels. Coat with oil and season both the scallops and the asparagus. Place them on the grill for two to three minutes, until the scallops are just cooked and the asparagus has a good charred colour. (Turn the scallops only once during cooking. They may take much less time to cook than the asparagus and should be served medium-rare.)
4 To serve, place the asparagus and scallops on a bed of the pickled cauliflower and serve with a leafy salad and crusty bread.