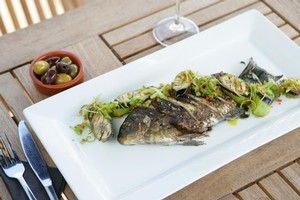 Whole grilled fish makes for a wonderfully tactile way of eating fish and it gets you out of that nasty filleting job. Classic sweet Caribbean spices make a great balance to barbecue charring and the bright flavours of green banana and chilli.
Serves 4
Prep time: 15 minutes
Cooking time: 10 minutes
For the snapper:
4 portion-sized snapper, scaled and gutted
2 tsp each of nutmeg, cinnamon, ground ginger, garlic powder, dried thyme
3 tsp Allspice
1 vanilla pod, seed paste only
Oil for grilling
For the salsa:
3 green bananas, skin on, cut into thick slices
1 green capsicum, finely diced
1 spring onion, finely sliced
1 green chilli, finely diced
2 tbsp chopped fresh coriander
3 tbsp coconut oil
2 limes, juice and zest
Salt and pepper
Preheat your barbecue to a high heat.
For the salsa: grill the bananas for 1-2 minutes on each side. Combine with the rest of the ingredients, season to taste and leave to marinate for 8-10 minutes.
For the fish: make four cuts down to the bone across each side of the fish. Combine all the spices including vanilla and rub generously over the fish. Season well with salt and pepper, drizzle with oil and cook on a high-heat grill for 3-4 minutes on each side or until medium- to well-done and slightly charred.
To serve: Place the fish on a plate, spoon over the green banana salsa and serve with creamy polenta mash or steamed new potatoes.