If the kids are city slickers, get visit a local petting farm to get them in touch with some of New Zealand's favourite animals.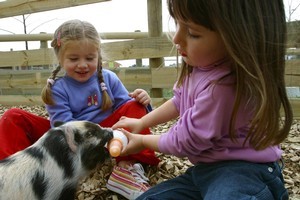 1. Mt Albert Grammar School Farm
40B Alberton Ave, Mt Albert, ph (09) 846 0796 or email farm manager Larney Palmer at lamper@xtra.co.nz
Tours held every morning except Wednesdays, from 10.15am-11.15am, or by appointment. $4.50 per person.
Right in town you can book a guided tour of a farm you never knew was there, tucked between suburban streets as part of Mt Albert Grammar School.
Milk the cows, feed the pigs and goats, bottle-feed lambs, cuddle the rabbits and experience a sheep shearing demonstration.
2. Butterfly Creek
Tom Pearce Drive Auckland International Airport, ph (09) 275 8880.
Open daily 9am-5.30pm.
Buttermilk Farm at Butterfly Creek is an interactive farmyard where kids little and big can get up close with their favourite farmyard animals - kunekune pigs, goats, chickens, rabbits, guinea pigs, alpacas, cockatoos, doves and lots more. Train rides and parties a specialty.
3. Matakana Country park
71 Omaha Flats Rd, Matakana, ph (09) 422 7437.
Free entry, small fees for animal food and rides.
The huge barns at the country park in Matakana have it all: a petting zoo and farmyard, horse riding, equestrian park, and walking and riding trails.
For the less outdoorsy, there are weekly farmers markets, sculpture, arts and crafts, and a big restaurant.
4. Ambury Park
43 Ambury Rd, Mangere Bridge, ph (09) 366 2000, Saturday and Sunday 8am-6.30pm, free.
A working farm run by the Auckland Regional Council, Ambury Park has sheep, goats, cows, pigs, pet lambs, chickens, turkeys, rabbits and peacocks. Grassy lanes between the animal enclosures help you get up close to the animals safely, or you can go into the paddocks to mingle with them. The jersey cows are milked at 10.30am.
5. Franklin Zoo
83 Ridge Rd, Whangarata, ph (09) 236 8686, open daily 9am-5pm.
With hundreds of animals and birds to feed, picnic and party spots, wild encounters, guided tours, and special school holiday programmes for budding zookeepers, this park gets kids up close with exotic and indigenous wildlife. There are programmes for 8 to 11-year-olds and 12 to 16-year-olds.