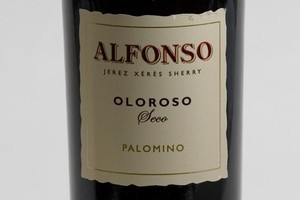 My nana loved her occasional sherry. It sat on a highly polished mahogany side table in a splendid crystal decanter, with an elaborate stopper on top. She had a selection of matching tumblers that were sharp to hold. Crystal is lovely to look at but a bit impractical around children. And, as I recall, when sneaking the odd sip, Nana's sherry was unbearably sweet.
She is no longer with us, nor is the super-saccharine-fortified sherries that were so astonishingly popular in the 50s and 60s.
I can't speak for crystal decanters but I do know that a new breed of exciting Spanish sherries is appearing and ought to be taken seriously. With a wide reach of flavours and styles, they make a pleasant change from the usual table wines and can be remarkably food-friendly, especially with difficult dishes like curries, intense chocolate-based desserts, many cheeses and icecream.
Gonzalez Byass of Spain is one of the world's most prestigious and best-known winemakers, with an array of stunning, affordable sherries that cover a kaleidoscope of distinctive styles from bone dry to light, airy and sweet.
Some have huge flavours and are syrupy, deep, rich and weighty, while others have an almost ethereal, vanishing fragility to them.
Different types of sherry embrace and enrich different foods.
For example:
Manzanilla and Fino: both very dry. Try with cheeses, soups and seafood.
Amontillado: medium dry and sweeter than the first two, it goes well with white meats, curries and mature cheeses.
Palo Cortado: dry and loves game and red meats. This is best served at room temperature or slightly chilled.
Oloroso: also dry but a good aperitif or with lighter red meats. Can also be served slightly chilled.
Sweet Cream Oloroso: sweet and delicious with desserts. Serve with ice.
Pedro Ximenez: very sweet and perfect with chocolate desserts.
Pale Cream: another sweet sherry which is lovely with nuts, pates and fruit salads. Serve chilled, at room temperature or with ice.
As a general rule, once opened, all sherries should be placed in the fridge. Lighter drier sherries have a shelf life of a few weeks, while older, sweeter ones are good for a few months.
Nana could make her decanter spin out for a couple of years.
RECOMMNEDED
Gonzalez Byass Alfonso Seco Oloroso (Half bottle), $21
About 8 years old, it will get richer, darker and nuttier with age. Versatile with food, dry with a hint of licorice.
Gonzalez Byass, Palo Cortado Viejo Apostoles (Half bottle), $65
Very old reserve sherry (30 years). This is top of the range with 20 per cent alcohol. It smells of old oak and caramel and has big fruity flavours and is very drinkable. This is superb with blue cheese and walnut praline.