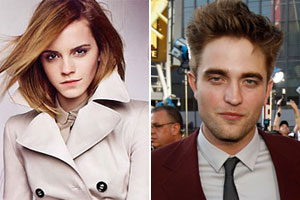 Young Harry Potter star Emma Watson has been named Britain's best dressed woman.
The 20-year-old actress, who plays Hermione Granger in the Potter films, beat the likes of Victoria Beckham, Keira Knightley, Sienna Miller and Kate Moss to take out the top spot in an online poll on the website of influential magazine Glamour.
Watson's English rose good looks and impeccable style have in the past earned her a campaign as the face of iconic British label Burberry.
Former Spice Girl and football's number-one-WAG Victoria Beckham, who now calls Los Angeles home, took out second place and Pirates of the Caribbean star Keira Knightley, who has modelled for Chanel, came in third.
Topping the best dressed men's list on Glamour.com was Twilight sex symbol Robert Pattinson, followed by Scottish actor Gerard Butler.
Coming in at third place was Emma Watson's red-haired Harry Potter co-star Rupert Grint and at fourth was Harry Potter himself, Daniel Radcliffe.
Top 10 women:
1. Emma Watson
2. Victoria Beckham
3. Keira Knightley
4. Cheryl Cole
5. Sienna Miller
6. Kate Moss
7. Lily Allen
8. Pixie Lott
9. Naomi Campbell
10. Florence Welch
Top 10 men:
1. Robert Pattinson
2. Gerard Butler
3. Rupert Grint
4. Daniel Radcliffe
5. David Beckham
6. Orlando Bloom
7. Ed Westwick
8. JLS
9. Jude Law
10. Ewan McGregor
- NZ HERALD STAFF