Address: 118 Ponsonby Road
Phone: (09) 378 7979
Website: ellacafe.co.nz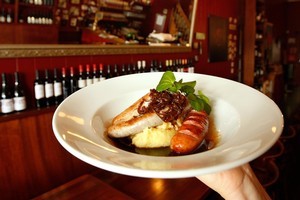 It had been a while since we'd visited Ella Cafe and Lounge on Ponsonby Rd. Back then it was called Stella or something less memorable. This time, I was assured by Pamela, we'd be pleasantly surprised. And we were.
Ella occupies a small space on Ponsonby's upper restaurant strip, made larger by a wonderful mirror, which allows diners opposite to see themselves in a reasonably flattering light. And although the place is almost empty when we arrive, by 9pm it's packed with regulars meeting for dinner.
Ella offers a relatively small menu, plumped out by an alluring specials board which I found impossible to resist, especially the pan-fried skate. I remember eating skate years ago, and have never seen it since. It was an exciting find - and good sign in a city where chefs so often settle for pan-fried snapper.
The entree selection was enticing too. We started with the calamari for Pam. Barely floured, it was sweet and tender and not at all greasy, while Dave's surprisingly large parmesan-crumbed sardines, though fried to a crisp, were not too strong and still moist inside.
Although Brian's smoked eel with horseradish cream tasted great to me, he was unenthusiastic, while I was less than thrilled with the special raw Waiheke Island oysters. Even served with a delicate spiced vinegar, they weren't in the same chapter, let alone on the same page as fresh Bluff oysters.
By then we were into our wines, which we bought by the glass, seriously believing we'd only have one each. But, possibly because we now realise after all the recent publicity that we can have four to six glasses and still drive merrily past the booze bus, we made a respectable inroad into Ella's selection, with two glasses each.
Neither of mine hit my sweet spot and our smiling waiter did not seem to know his way round the selection all that well. The red drinkers, however, were especially happy with their choices from an interesting list, presumably put together by Ella's regular maitre d' who (according to Pam) formerly owned Merlot in O'Connell St, which prides itself on a great wine selection and basic, stylish, yet well-priced food.
They're obviously aiming for the same thing here. Certainly my skate arrived looking magnificent. There was plenty, it was as succulent as crayfish, but with a very slight bitter tang, set off by a mound of sweet-tasting leeks, mashed potato and a creamy sauce. The finished effect was divine.
Dave chose the fillet steak, which turned up glamorous and bloody, just the way he likes it, while Brian, of course, could not be dissuaded from the bangers and mash, even by Ella's famous pork belly or schnitzel with potato salad.
He had already quizzed the waiter and discovered the dish contained three different sausages, including a much-favoured Italian sausage and two German varieties, and was on fire. And he was not disappointed when the sausages arrived stacked on a mound of sieved mash, surrounded by a pool of onion gravy.
All three of these dishes apparently go back to the days of Stella, where they were loved by locals. The tradition lives on. The three diners at the next table were tucking into great slabs of schnitzel and delicious it looked too.
Despite being filled to the brim, we sampled the desserts: the apple tarte with icecream for Pamela and Dave to share and a black forest concoction for Brian. It arrived in a long glass, swirled with cream. Adorable, though I much preferred the apple pie, which I took over in the interests of research, leaving my friends my ill-chosen tartufo.
Pamela was right. Ella, which apparently has a lounge upstairs, is a great addition to Ponsonby Rd. We'll certainly be back.
Rating out of 10
Food: 7
Service: 8
Value: 8
Ambience: 7

Our meal: $302.30 for four entrees and main courses, three desserts and eight glasses of wine.
Wine list: Interesting, with an innovative blackboard selection including a fine Central Otago pinot noir by the glass.

Verdict: Ella, with its funky, relaxed atmosphere, and excellent bistro food at affordable prices, is a welcome find on Ponsonby Rd.