Herald on Sunday rating: 4/5
Address: Cnr Galway and Commerce streets, Britomart
Phone: (09) 302 3478
Website: cafehanoi.co.nz
Open: Noon-late weekdays; 5pm-late Saturdays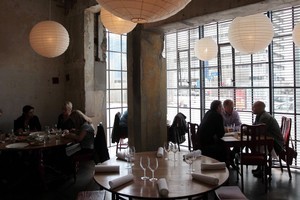 Anyone who has been to Vietnam knows that the best food comes from the north. Unlike Saigon, which has long been flooded by colonists and immigrants, it has escaped the influence of other cuisines (principally French and Chinese).
So when a foodie mate who lives downtown alerted me to the opening of a new Vietnamese place named after Hanoi (rather than the normally obligatory Saigon or Mekong), I was immediately interested.
I was doubly intrigued when I found that the restaurant, which has been open barely a month, doesn't have a Vietnamese chef - or even, so far as I could see, any Vietnamese staff. It turns out it's the work of two hospo types with good Ponsonby form: Krishna Botica from the ever-reliable Prego and Tony McGeorge, who is behind the popular watering hole Ponsonby Social Club.
After 18 months in development, Cafe Hanoi seems to have hit the spot - on a recent Tuesday evening the place was pumping - and they don't take bookings, presumably because they don't need to.
The decor, in a style I'd call meticulous laissez-faire, makes a virtue of the building's recent history as a derelict fringe piece of the Britomart renewal. The walls are not so much distressed as positively beside themselves, but the place was a bank for a century, so it's not going to fall down around your ears.
I've said before that I'm no expert in Vietnamese food, having done much of my eating in that wonderful country at pavement stalls. No matter. Chef Jason van Dorsten spent almost a year there on several visits, working with top chefs and, one imagines, watching home and street cooks, too.
The food he has come up with is neither simply authentic (that word sells it short) nor fusion (that word overstates the degree to which he's interfered with it). But it does lend a smart inflection to the Vietnamese standards: the pho bo - the beef-and-bean sprout soup which is Vietnam's breakfast and snack-food staple - uses a slice of Angus beef and the broth is poured at the table; a five-spice chicken recipe uses poussin with finger-licking-good results; how about beer-steamed cockles with ginger and chilli - a perfect marriage of Kiwi beach barbecue and Asian fragrance?
The main part of the menu is headed "shared plates" in case you don't know what to do (though it doesn't seem obligatory to me; I rather enjoy solo yum cha on occasions).
The waiter - our one was as whip-smart and on to it as I've encountered - lays a long dish of condiments on the table (sliced chilli, squeezing lime, and the fish sauce the Vietnamese call nuoc mam) and some dishes come with a basket of fresh and fragrant herbs. Then - to employ a technical term of restaurant-reviewing - you get stuck in.
Open won tons - the pastry was almost taco-crisp - topped with pickled shrimp and tomato were a knockout. Side dishes of braised eggplant with garlic and pumpkin with coconut milk were enchanting. I had to order a second dish of the grilled pork, when the Professor, who professes to dislike pork, hoovered up most of the first one. Cubes of wok-fried ling marinated in turmeric and ginger were fabulously juicy.
It's worth mentioning that this is not the budget dining you might expect in Vietnamese food. Indeed, I think that some of the dishes are somewhat overpriced. But it's novel and delightful and quality dining. And when you go, you must order the sago pudding.
Ambience: Demolition chic
Vegetarians: Side dishes only
Watch out for: Smart service
Bottom line: Hanoi was never like this
THE BILL
$326 for five
Shared plates: $6.50-$30
Desserts: $10.50