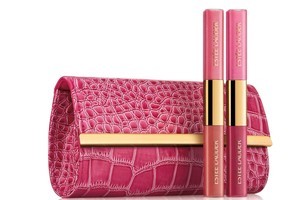 As if you didn't know, October is Breast Cancer awareness month, with a slice of the profits from sales of all sorts of products going towards finding a cure. Choose pink ribbon versions of everything from soap (Dove) to shavers (Venus) at the supermarket, or shop in salon, department store or pharmacies for pricier items contributing to the cause. Without doubt the most unusual offering advertised this year would be pink valve caps, which look like nipples for your tyres.
Among the more enticing items that caught our eye is Estee Lauder's hot pink cosmetic bag with three lipsticks in high-shine metallic pink cases chosen for the worldwide fundraiser by Evelyn Lauder. The set costs $69 with $5 going to the New Zealand Breast Cancer Foundation, and there's also a gloss option available. The company has also made a jewelled brooch version of the pink ribbon symbol which costs $35, $5 of which is a donation.
The 2010 Pink ghd IV styler, which features girly pink butterfly patterns on white irons with pink plates, is a limited edition costing $350 with $30 going to the foundation (for stockists call 0800 880 209).
Pandora is donating 15 per cent from the sales of two special charms: one in sterling silver with pink zirconia selling for $69 and another in 14 carat gold with pink sapphires priced at $425, then there's a limited edition pink leather bracelet with silver charms for $219.
Jo Malone is donating $15 from every bottle of Red Roses cologne, bath oil or body lotion sold in October, with product prices starting at $110. Bobbi Brown is giving 10 per cent of the $100 price of its Shimmer Brick in Pink and Clinique has a key chain with three pink mini glosses for $42, of which $5 is a donation.
Ecoya is giving 10 per cent from sales of its limited edition Honeysuckle Haven candle costing $34.95 from selected Farmers, Living & Giving and gift stores. If you're in the market for Creme De La Mer, a 60ml pottle in a pink carton costs $485, with $25 going to the charity. Revitanail will chip in $1 a bottle from its polish - check out fast-drying Perfect Pink for summer.
Mineral makeup company Jane Iredale is giving $2 from the $52 price of its Sugar & Butter Lip Exfoliator and Plumper in a brightening pink called Phoenix. Ph (09) 636 1966 for salon and spa stockists.
Plus there's plenty more out there.
* To find out more about the work of the foundation check out nzbcf.org.nz
Stitched up
Stitch Ministry continue their relationship with the Vodafone NZ Music Awards with a special T-shirt, as worn here by nominee Gin Wigmore. It's the perfect tee to wear to show your love of New Zealand music. They're $45 and available from stitchministry.com, plus other stockists.
Designer statement
Brighten up your look and support a worthy cause in one go, with a limited edition purchase from the Juicy Designs for a Cure campaign. This scarf by designer Cybele Wiren and a Juicy Tube in her favourite Toffee shade are packaged for sale for $50 at Lancome counters from this week. You'll also find designs by Karen Walker, Trelise Cooper, Helen Cherry and Ruby with their lip gloss picks. Ten dollars from each purchase goes towards the Breast Cancer Research Trust's efforts to find a cure for cancer. Around $55,000 was raised last year. Walker, whose scarf carries a graphic black and white print, says: "Juicy Tubes is the favourite lip gloss of women all around the world - myself included. I'm thrilled that we've been able to team up with Lancome to raise funds for the Breast Cancer Research Trust and I'm sure women throughout the country will grab this opportunity to make a difference, both to our research and their lips!"
In the family footsteps
Jaime Ridge is the striking face behind a new natural skincare range aimed at young women. The 17-year-old celebrity daughter fronts for Scarlett & Greene which debuts next month in selected department stores and pharmacies. The three-step range includes an SPF15 moisturiser and is free of mineral oils, silicones, sulphates, alcohol and added fragrance.
The women behind the range, Samantha Scarlett and Rebecca Freeman-Greene, used their marketing backgrounds to research that young women, not surprisingly, wanted simple, effective skincare that helped control breakouts, and they then tested it on their own teenage daughters. Ridge is enthusiastic, saying her sensitive skin has been troubled by other products.
To find out more see scarlett-greene.com.
Extra indulgent
New Zealand's most expensive facial has arrived at the Langham Hotel's Chuan Spa in the form of luxury Spanish product Natura Bisse. Likely to appeal to the sort of customer who forks out for La Prairie or La Mer, this Barcelona-based skincare range is exclusive to Chuan in New Zealand and available at only a handful of outlets in Australia, one of which Beyonce frequented for facials on her last tour. A one-hour Natura Bisse Signature Facial at Chuan costs $280 and involves European-style facial massage. The extensive skincare range was developed by a biochemist and draws on algal ingredients.
Prada please
Fans of Prada's Infusion d'Iris can now get a lighter version with a fresher more floral eau de toilette being launched three years after the release of the eau de parfum which is rooted in iris, but also includes mandarin notes. "When you smell Infusion d'Iris eau de toilette you understand that is it is from the same family, but you understand also it is something different, like a new chapter in a favourite book," says perfumeer Daniela Andrier. It adds to the iris, with subtle notes of violet, lily of the valley and heliotrope. On sale from October 4, the 50ml edt will cost $102, with larger sizes available.
Say it your way
Those London bus-style canvas artworks listing destinations in different sized type that have popped up in local versions can now be customised. Online shop Style Direct is offering to have large signs made to order. You can combine the area and street names that are special to you in a unique graphic piece, with prices starting at $690. For details see styledirect.co.nz/art
Big girl's blouse
Designer Jaimie Webster has updated her signature blouses with a looser fit that's perfect for summer.
The cotton voile "Joey" blouse comes in three colourways, including a sweet gingham and a khaki shade that references fashion's current obsession with utility in a casual way. $269 from Jaimie Boutique, ph (09) 361 4000.