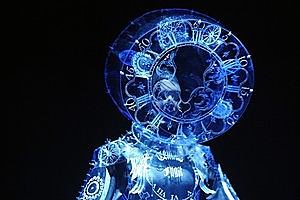 The judges of the 2010 World of Wearable Art Awards Show (WOW) have no limits on what they accept for a show and say what they are looking for has not changed since the inaugural show in 1987.
"If it is good it will get in," founder Suzie Moncrieff said.
This year a record 191 works were chosen and the judges said the open and avant garde sections were particularly strong. Each garment spends about two minutes on the stage during the two-hour show.
"It was one of the hardest years I've had to judge," Ms Moncrieff said at a designers' forum this weekend.
The judging process consists of three steps; garments are viewed when they first come in before they have been choreographed, viewed again after being choreographed and then judged a final time under the full lighting show at Wellington's TSB Arena.
The judges are looking for garments that are innovative and push the boundaries and say the concept of taking art off the wall to adorn a human form and then showcase it in a dramatic setting continues to drive them.
Doris de Pont, who has a fashion design background, said she found it interesting to see "what the garments demonstrated about the concerns out there in the world".
Kenetic sculptor and WOW judge Phil Price said creating an entry was a process of decision making and problem solving, and the parallels with working in the art world were real.
He regarded WOW as ground breaking.
"The show works in a territory that is entirely unknown," he said.
Ms de Pont said she looked at the works from a fashion angle and considered the wearability of the garment. A key element was styling for presentation - it should not be tied by just a piece of string at the back, for example.
Props and elaborate hats risked muddying the concept.
"If you add too much it looks like fancy dress, rather than an art form," she said.
Mr Price said he was looking for completeness and praised the supreme winner, Loops, for its journey from concept to reality.
Garments must speak for themselves as the designers could not stand next to the works and talk about them.
Julie Brawley, from Ashburton, who won this year's WOW factor award with a garment called Reflections on Time, said she had to learn to weld to make her first garment, and her second one was made with a piece of elastic bought in a junk shop.
A garment that was rejected collapsed, which provided a lesson in the need for the work to be able to move and withstand scrutiny.
If you couldn't dance around in a WOW garment in your lounge then a model was not going to be able to move in it, she said.
"It is an art show, not a fashion show. The original concept has not changed," Ms Moncrieff said.
Next year the show is a month earlier and a week longer to fit in with the Rugby World Cup.
The prize money will total more than $100,000.
- NZPA