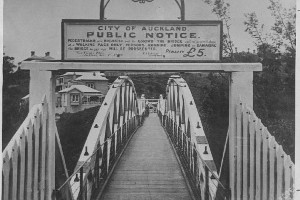 Can you guess the near-riot? "Well-dressed people surged, snatched and grabbed ... knives flashed and people yelled in their frenzy", leading to "more than one bleeding hand".
No, it's not the goodie bag grab at Fashion Week, but NZ Truth's take on the opening of Grafton Bridge 100 years ago.
The knife wielders were not some far-sighted anti-road lobby but souvenir hunters battling for a piece of the ribbon ceremoniously cut by the mayoress.
Dang, but they make me wish this year's lovely quiet walks across the new Mangere and Newmarket motorway lanes had been less quiet and more well-dressed.
Auckland City's Heritage Festival - which includes the Grafton Bridge Centenary exhibition - is proving extremely revelatory. Some of the revelations are about the past: after taking four guided walks on the opening weekend, I now know those knife-wielding Edwardians led an exciting life. They also had a case of bubonic plague in Onehunga in 1910 and made whoopee on a rollercoaster in the Domain in 1913.
(Little did they know what was lurking around the corner in 1914 ...)
But many of the festival's revelations are about the present. First, "heritage" is now apparently something for the ladies to do - Fashion Week boasts more men per woman than my walks did last weekend. Hardly surprising for the informal, personal Charlotte Museum lesbian history walk, but even the engineering-minded Grafton Bridge walk was two-thirds women (half the men had beards).
Secondly, the festival includes an astonishing number of events, many of them entertaining and worthwhile. But that quantity serves to show up imbalances and gaps where specific stories are missing.
Auckland is a multicultural city and its Heritage Festival should reflect that multicultural heritage. Yet out of its 150 events, only one is specifically about Auckland's Chinese heritage, and only two seem to be Pasifika-focused. No event descriptions mention the city's Indian heritage at all.
Many walks are Pakeha-focused but you have to scour the guidebook for Maori-focused events: the Auckland Art Gallery has a talk about the paintings of Maori by Lindauer (a European), and today Malcolm Paterson (Ngati Whatua) is guiding a walk up Maungakiekie/One Tree Hill. Te Puru features Maori scholar David Simmons in storytelling mode between hills and sky; judging by the trailer, it is a beautiful, slow film.
On the other hand, Auckland Museum sounds as colonial as possible when possessively describing its kapa haka group as "our very friendly performers". That condescending phrase echoes the Symonds St monument which mentions the "friendly Maoris" who died fighting for the British Crown during the New Zealand Wars.
Still, what the festival does include is great. I love guided walks - they show you gems you've ignored a thousand times under your nose or on roofs above your head. On the Domain tour, I saw that the band rotunda - donated by a Scottish businessman - is covered in the geometric rose design made famous by Charles Rennie Mackintosh. Fancy that.
Best of all, most events are free. NZ Truth, 1910, again: "If Aucklanders love one thing better than another, then it is the thing that directly costs them nothing." Some things don't change. I'll happily attribute that "free" loving to my Scottish heritage.
* Auckland Heritage Festival runs until October 3.
Check out www.acityfullofstories.co.nz for more information.