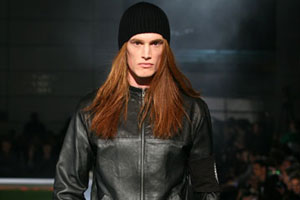 What a fabulous location for a fashion show Huffer chose in the grass quadrangle outside the Owen G Glenn building at the University of Auckland.
The ambitious brand thinks big and having invited around 1000 people along, luckily for it the weather gods were in a good mood. So too the crowd, enjoying fresh air after a week largely confined to quarters at Fashion Week central down in the Viaduct.
Some were ready to party, others already celebrating their escape and all anticipating how the Into the Unknown event would unfold.
A runway had been laid down over the concrete surrounds of the raised quad, creating an ideal runway for the models to walk around, with the business school's glass and steel home providing a stunning backdrop.
As the first male models came out in Huffer casual wear, I couldn't help wishing we were seeing billowing couture gowns juxtaposed against the green grass and concrete block wall on which the show was also projected.
You're not in Paris now, so best focus on the clothes which, truth to tell, are just what you'd want to wear to keep the chilly night air at bay.
First up was a double-breasted man's coat carrying a series of Huffer crests, including a Heraldic look quadrant design with the label picked out letter by letter as H U F A. Various crests repeated throughout the show on anoraks and cardigans, including a trail of them down the back of a cream honeycomb-look knit.
Other reoccurring variations on a theme were the use of a blush-coloured leopard print in women's wear, most successfully when the pattern was enlarged and used on knitwear. The print was also used for the top half of a dress, with its skirt a flippy georgette.
A blue-on-black floral print also cropped up several times, including as a pinafore.
Men wore drill pants and mid-blue denim dressed the male bottom half, with plaid shirts peeping out from sweaters and even the odd suit jacket. Just one of Huffer's trademark three dot T-shirts was sighted, surely a sign Steve Dunstan and Dan Buckley are moving on.
Women's wear was equally easy, from little dresses with frilled hems to lacy knits and a denim playsuit.
Some frocks were cut with plenty of cloth, flaring out wide, reminding me of a maternity gown without the baby aboard.
The softer mood was best typified by a peachy belted dress with its skirt flaring out like a mini-length version of a 1950s classic shown on America's Next Top Model Krista White, who was there as part of a prize for Huffer's winning the Air New Zealand export award.