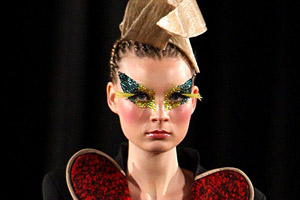 Oh the Worlds, you look forward to their shows like you look forward to Christmas. Will it be wildly clever or will it just get wild as the kids get over-excited on Fanta and run around the room?
But this year the grownups have their own party, in the very grown up venue of the Grand Ballroom at the Langham Hotel (tiny cakes, immaculate salmon sandwiches and bubbles - bliss).
Backstage felt equally grand - luxe mirrors, loads of room and the calm presence of the Shiseido creative head Ken Matsuda (leading the local artists Nikki Lovrich and James Leuii), while Michael Beel from Bouy raced between shows (and locations) to do hair.
There were three looks for the girls, all riffs on the Eighties, culminating in the wildest, architectural hair for the grandest version.
Look One was over processed, permed French roll - frizzy and fluffy, but clean enough at the temples for the makeup team to take over (more below).
The Eighties got more boy band in the second look with a gelled French roll, with, naturally, a quiff. The boys were pure Jersey Shore (though the girls were far, far from Pooki) but the sleezy, quiffy dandy thing was kind of like The Situation meets John Galliano, only sleazier.
And then all was fabulosity: a handful of girls had sat all day while their hair was braided into corn rows of teensy, tight braids, wound into a top-knot and then ... well, then there was a sculpture of blades of hair (for all the world like those origami windmills you get on sticks). Of course, being World, it worked perfectly with the faces and the clothes.
If you must know, it was all held together with Maximise serious ultra hairspray, but I suspect craft glue would've also done the trick.
The faces were formidable. Ken (and his partner, Hiro) are the masters of contouring so the cheeks were contoured and sharp as (Shiseido Satin Face Blusher). The boys were bronzed with a slick of sheer, shiny metallic on the top of the cheekbone.
The eyes had evolved from big coloured pandas (in Shiseido's newest Dick Page-designed colour palette, Luminizing Satin Eye colour in poppy tropicals, jungle greens and boudoir pinks as well as the more everyday neutrals) but by the day of the show, were great wings of colour shaping from the corner of the eye right across the temple and into the hair. Blue, pink, stunning.
Topped off, as you do, with some of the girls' lids in Swarovski crystals. Lips to finish, of course.
TRY THIS AT HOME: Glamour rock meets Galliano is not your every day look, but you can play with a modern quiff for party time. Extend the eye makeup across the temples and slide it into the hair, leave the rest of the face contoured. This look does work best if you have cheekbones that can cut glass.