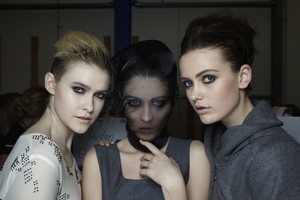 The Alexandra Owen woman is always a woman apart - a clean, cool beauty, elegant, rather structured. Her influences are unexpected - she's the kind of woman who takes up fencing, say, rather than Pilates like everyone else, the boyfriend is a history professor (older, silver haired, drives a vintage Mercedes), not a DJ.
GHD's creative director Michael Beel from Wellington's Buoy salon would well know that kind of creative-but-not-desperately-hipster ethos (his salon features in architecture and design magazines as much as fashion ones).
His brief for the hair then was clean, slick and structured. Sure, you could say it was an up-do, but it was an unexpected up-do - a mix of rough and smooth, the essence of femininity.
The front section of the hair was swept clean off the face using GHD Texture Lotion and Polishing Serum.
Dried with the diffuser, it retains the wet comb-marked look, under runway lights it looked like the girls had bi-coloured hair.
The girls' French buns was messed and slightly frizzed, without looking like they'd slept the night in it. Think the movie L'Innocente.
And the faces by M.A.C's Kiekie Stanners were equally meticulous without looking over-worked.
The Sculpt Foundation gave the girls the flawless, dewy look of good breeding and good care, with just the most subtle of contouring. Back to the brow - this has been the season of brow interest - for just a nicely shaped arch in brow pencil, a slick of gloss texture.
The eyes were smoky, but it was the blended and blended and blended smoky Handwritten eyeshadow, soft and fresh, with just a touch of Black Black Chromographic pencil.
Lip Erase created the palest base for the Petting Pink Lip Conditioner, soft and glossy, and very elegant.
TRY THIS AT HOME: We might be falling in love with lipstick, after years of shiny, shin lip gloss, but when done well, gloss is classy. Start with an impeccable foundation and Lip Erase so that there is a neutral base, then slick on a touch of soft, pale, barely there gloss. Perfect with pale winter skin before the tanning season starts in earnest.