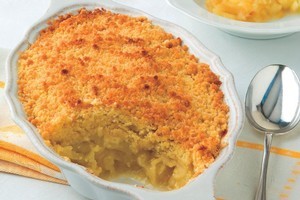 Stewed apple can be served in many ways: as it is, or with cereal for breakfast, or with cream or ice cream for dessert, or used as the base for Apple Crumble. The Crumble topping given here can also be used on other stewed fruits, such as rhubarb or peaches.
Stewed apple with lemon
800-900g eating apples
40g/about 2 rounded tablespoons butter
about 2 tablespoons sugar
1 lemon
Crumble topping
170g/1 1/3 cups plain flour
2 pinches of ground cinnamon or ginger (optional)
110g butter
55g/ 1/4 cup sugar (white or brown)
milk, cream, vanilla ice-cream, or plain yoghurt for serving
1 Peel the apples, cut into quarters, cut out and discard the cores, then chop the quarters into pieces.
2 Melt the butter in the saucepan over a medium heat.
3 Add the chopped apple and the sugar to the saucepan, stir, then cover with the lid and cook over a gentle heat for about 10 minutes. During that time lift the lid and stir the apple mixture a couple of times.
You don't have to add any water because once the apple begins to cook it releases its own juice and will cook in this.
4 When the apple is soft, remove the saucepan from the heat. Taste to see if it is sweet enough; if not, stir in a little more sugar. Grate some lemon rind from about half of the lemon and stir into the apple. Taste again to see if it is lemony enough.
5 Heat the oven to 200°C.
6 For the crumble, place the flour and cinnamon or ginger, if using, into a bowl.
7 Cut the butter into tiny pieces about the size of your little fingernail, add them to the flour and mix around so they are coated in flour. With your fingertips pick up some of the mixture and rub it together between your fingertips. Repeat this process again and again until the mixture looks like coarse breadcrumbs.
8 Stir in the sugar.
9 Place the stewed apple in the ovenproof dish, then spread the crumble topping evenly over the apple.
10 Place the dish on an oven tray in the centre of the oven and bake for about 2530 minutes, or until it is golden and crisp.
11 Serve warm with milk, cream or ice-cream.
Recipe extracted from It's My Turn to Cook, by Margaret Brooker with Alexandra and Charlotte Stephen.