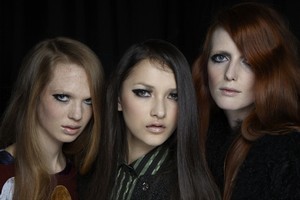 Adrian Hailwood's collection was dubbed Going Platinum and his muse was the fake Fifties Hollywood glamour - fake because behind the veneer of sparkle lurked a vulnerable woman, often dressed and paraded to please her masters.
So no surprises then that he chose to make up his models in the style of mannequins with glassy, expressionless eyes, pancake makeup face, loads of false eyelashes and slightly wig-like hair.
M.A.C's creative Kristen Stewart was down to the wire as girls ran in late from Kathryn Wilson's shoe show with minutes to spare and complicated hair to un-clip (literally, the nail scissors were out as the architectural towering ponytails were dismantled).
Her look was sophisticated, but very simple, starting with a base of the indispensable Studio Sculpt foundation. She'd brushed it on to create a matt, doll-like effect with barely a contour or highlight.
Eyes were the focus - again, blinking-dolly socket lines were drawn in and flicked out to cat-eyes at the edges, filled in with Smoulder eyeliner.
Fine eyeliner at both upper and lower lash lines set the base for killer eyelashes - huge #2 lashes on the upper, and long, feathery #2s on the lower (individually glued, under pressure, you've gotta love the way these girls keep their cool). Then a lash of creamy, sheeny gloss (Adrian just had to have it when he learned the name: Boy Bait) and they were off.
Hair was roll set for volume, then brushed super-straight with a rough tussle on top to finish - wiggy, frail and very wearable.
"Just on the periphery there is something that tells you it is all make believe," declares Adrian.
"Everything is opulent yet shrouded in a veil of frailty."