Fashion Week is no longer the sole domain of highly paid, high-powered players. With the rise of new technology has come the rise of self-styled fashion commentators armed with little more than an internet connection and their passion. Fashion writer Emma Dunlop examines the phenomenon of the front-row fashion blogger.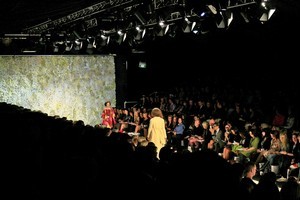 Has the sheen gone from fashion? Certainly it is no longer a lofty, mysterious business that goes on behind closed doors, an exclusive and excluding conversation among fashion elites from the likes of Vogue or even Fashion Quarterly.
No, the sheen is still there, the lustre is still intact. But because of new technology it has changed. Where once fashion was adjudicated from on high, it is now the subject of a noisy dialogue led as much from below as from above. The internet means there are now countless, endless discussions, interviews and documentaries. There are a multitude of websites, online magazines and blogs. There are Twitters, Tumblrs and Facebook pages. All dedicated to just one thing: fashion.
Now, more than ever, you can, if you wish, see and hear almost every aspect of the process from inspiration to design to manufacture to the catwalk shows - live, as it happens via Twitter.
The conversation on the internet is loud, insistent and ceaseless, though you may not understand what's being said: "New Bodkin pieces at Bona Drag.
Need them on my body immediately. And not just because it's freezing today. Korean corn tea can only do so much."
If you're not a fashion blog aficionado, this will be gibberish. Let me enlighten you: Bodkin is a New York-based fashion label with environmental overtones. Bona Drag is an online clothing store, quite a good one. It was freezing in Scandinavia during its fashion week. The Korean corn tea? Who knows.
This is from one Rumi Neely, aka Fashion Toast. Neely is what is known as a fashion blogger, one of a new breed of self-styled commentators who use the internet to tell the world what they think.
She has around 35,000 people looking at her blog each day, hanging on her every word, taking her advice on everything from clothes to corn tea.
Neely has advertising from heavy-hitters like American Apparel and The Gap on her site. She travels (gratis) to fashion weeks around the world, including New Zealand's.
You could dismiss Neely, quite easily. She, like many bloggers, isn't particularly adept at the writing side of things, but she is very pretty, and her boyfriend, Colin Oskol, takes lovely photos of her in various poses, in various outfits.
People bemoan her - she's self-involved, vapid. But say what you will, along with many other bloggers, she wields a lot of power.
It isn't a stretch to say that Neely and the growing army of fashion bloggers of which she is part - and these include locals Isaac Hindin-Miller and Emma Gleason - have changed the face of the industry.
"New Zealand Fashion Week has much more of a global reach thanks to the internet," says Zoe Walker, fashion writer for the Herald's Viva magazine. "A girl from London isn't likely to read my NZFW coverage, but she may read my summary of the event for [British website] Grazia Daily. It's a lot easier for local brands to go international now."
Walker, who works across both print and online media for the Herald, as well as writing her own blog, believes that the internet has definitely contributed to the ever increasing cycle of fashion and demand for it.
"Online buzz is the easiest, cheapest and most effective way to build a culture around a brand, if that's what the designer wants. But I'm not sure if local designers are yet to achieve the follow through to match that demand and buzz.
"As soon as new season lookbooks and campaigns are released, they are blogged and Tweeted to death, but by the time the clothes are actually available to purchase, you have to ask whether people are still interested or have they moved on to the next campaign?"
So how much impact does blogging really have on fashion? Anjali Stewart of local label twenty-seven names has no doubt that social media has helped to exponentially increase her brand profile, both in New Zealand and overseas.
"Bloggers passing around our lookbook and campaign images has been one of the best forms of indirect marketing for us. Our Facebook page has also had a huge impact on our label. Having direct contact with our 'fans' and keeping them updated with what we have been working on is really fun. It's nice to be able to have an open dialogue with people who are interested in the label. We just try to keep it real and be ourselves. People seem to respond well to that."
Stewart believes the internet has turned New Zealand Fashion Week into a global event and that, if designers are lucky and pictures from their show move around the internet, then buyers will see the label's range on blogs and will contact them directly for their lookbook and the orders follow. "That's all you can really hope for," she says.
Only a few local fashion websites or blogs are written by anyone with real credibility or influence.
In some respects, the beginning of local fashion blogging was the now-defunct Runway Reporter, an independent website later sold to media group ACP, which was set up by New Zealand fashion writer Stacy Gregg in 2006.
"When Stacy launched Runway Reporter, designers took note because she had already established herself and her influence," says Walker, who herself began her career at Runway Reporter.
"Like Australian Vogue editor Kirstie Clements said recently, it's easy to look at a dress on a catwalk and say 'oh, how pretty'. That's simply an opinion. It's not real power. There are definitely some bloggers that do have a lot of power and influence - Tavi, Susie Bubble, Rumi - but I'm not sure that that's the case here, yet."
Isaac Hindin-Miller, whose blog Isaaclikes.com is arguably the most successful, or at least the most well-known fashion blog in New Zealand, credits Runway Reporter as a primer for local bloggers.
"Runway Reporter was the first to do it - giving New Zealand a daily piece of the fashion pie. If you were a lover of fashion before that you had to wait for Viva, Canvas and Sunday magazine. Or Fashion Quarterly, or one of the independently published magazines. Runway Reporter paved the way for people to get into a system of checking up on what designers do every day of the week. It means anybody can have a voice, and really upped the everyday visibility of designers. It also meant they got immediate feedback.
"Magazines have a long lead time, and blogs are immediate, even more so than newspapers. It's made the market pages [the first quarter of most fashion magazines that cover new products and news snippets] almost entirely obsolete. Magazines have to create coverage in different ways - magazines can do lots of things blogs can't do. Magazines are starting to focus on what they can do that blogs can't - lengthy, picture heavy shoots and essay-style features," he says.
Walker agrees. "I think traditional media has to embrace the new. The so-called battle between the two is silly, but to not acknowledge the growth and influence of the internet seems archaic and incredibly stupid. Print isn't dead, but it has to adapt."
In the rapidly evolving online world, there has been a palpable backlash against "the bloggers". Established and often older figures in traditional media tend to view bloggers as young, uneducated upstarts who have no experience.
It's not just irritation at being elbowed out of their places in the front row, however. Many of these power players hold a genuine concern that blogs have turned into little more than mouthpieces for fashion brands, which use blogs as a place to regurgitate press releases.
At traditional fashion magazines, there tend to be checks and balances and some semblance of a code of ethics. Blogs have the potential to read like a litany of "what I got sent by a designer" and how amazing the designer is.
Robert Johnson, an associate editor at men's magazine GQ, has said bloggers are hugely attractive to the big design houses because they are so wide-eyed and obsessed. "But they don't have the critical faculties to know what's good and what's not. As soon as they've been invited to the shows, they can no longer criticise because then they won't be invited back."
In the US, a law was recently passed meaning bloggers must disclose if they have been given something for free. It's not something that has been applied to traditional fashion magazines, however, they've been given free items for years for their pages and have never been required by law to reveal this information.
For Hindin-Miller, there are both pros and cons to being a blogger. "The advantages of what I do are that I can do whatever I want, whenever I want to. I am an island. But I have to deal with the everyday running of my business as well as the creative side. A magazine has a team - that's both positive and negative.
"The advantage of blogs is that they don't have to be traditional. They are as much about the subject as they are about the writer, and that is part of the appeal - they don't have to conform to traditional modes. It's also really quick - I can break a story in a matter of minutes. Then it can go viral - within a day it can be on Jezebel, NY Mag.com and the Huffington Post [sites]."
Emma Gleason, an Auckland-based 21-year-old whose blog, Rag Pony, serves as a sideline from her studies in fashion design, believes the strength of blogs is they have a more personal, intimate and both celebratory and critical view of Fashion Week. "They are more subjective and less restricted."
She says Rag Pony attracts around 1000 "page impressions" each day. "New media has helped turn the coverage of fashion weeks into a form of entertainment, giving it an immediacy and sense of excitement that is somewhat lost in the time it takes for the coverage of shows to reach the print media.
"Not everyone fully grasps the power and seriousness of new media. I think that some of the older generation don't yet understand what a vital tool it can be, [and] therefore underestimate it and don't use it to its full potential. There is still a little scorn when it comes to fashion bloggers - more from those outside the industry than those in it."
Perhaps, at times, there is scorn for good reason.
Here's a taste of Toronto-based blogger Casie Stewart, who will be hosted by NZFW this year: "Have a full calendar of events & meetings this week. Snagged a young stud to be arm candy for a couple things too. Tomorrow I've got a hair appointment with Darrek Kwik, followed by a dress fitting at Paris Li for NZFW outfits. Opening of Toronto International Film Fest is Wednesday and I'll be attending a couple things that day. This week is gonna fly by. I got an invite to the Tastemakers Lounge on Friday afternoon. I'll be getting some swag. Yeah!"
Stewart has 4136 followers on Twitter, but her blog reads as an ode to "getting some swag" and she documents every launch party she goes to - the epitome of all that is reviled by traditional media.
That's not to say that fashion blogs can't be relevant, educational and inspiring - the good ones are. The good ones are agile, regularly updated and creatively approached. And the bad ones? They are little more than the torrid teenage rantings of the self-obsessed.
Up-to-the minute
If you want to know about every button and hem, who's in the front row and what they're wearing, as it happens, add these sites to your bookmarks, and add the users on Twitter. They're the most reliable and constant updaters and the ones we recommend you keep track of during NZFW.
* Patty Huntington, Australia
frockwriter.com, twitter.com/frockwriter
* Isaac Hindin-Miller, New Zealand
IsaacLikes.com, twitter.com/isaaclikes
* Rumi Neely, America
In conjunction with New Zealand site frontrowdiary.com, fashiontoast.com
* Emma Gleason, New Zealand
rag-pony. blogspot.com, Twitter.com/emmagleason