Aucklanders are not only getting their daily bread, they're prepared to pay plenty for it. Julie Harries finds out more.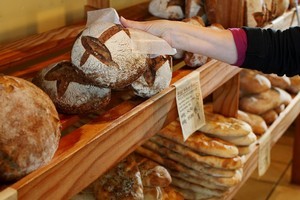 Beautiful bread is a meal in itself. Aucklanders who are sick of bland bakery ready-mix and thin, white slices of cotton woolly starch are embracing real bread as an art form, and are prepared to travel across town to buy from artisan bread bakers.
A host of craftsman bakers have been steadily proving, kneading and baking over the past 10 years with the aim of bringing the taste and experience of real bread to their customers: heavenly aromas, crunchy golden brown crusts, nutty seeds and grains, and perfectly balanced crumb texture.
And there's nothing like the sensuous taste of fresh bread, warm from the ovens, to relax you into a weekend mood.
But what makes someone part with up to $10 a loaf for the best of Auckland bread?
"One slice is all you need," says Olaf Blanke, head baker at Zarbo in Newmarket who started his baking career in Germany in 1988 before importing his skills to New Zealand in 2008.
His signature loaf is "Olaf's Vollkorn" - a dense 90 per cent traditional German rye bread that costs $7.50 for 930g. It sounds like a bargain and is long-lasting.
"There are no shortcuts in artisan bread making," he declares - his fermentation process takes three to four hours. While we are all snug in our beds he's off to fire up the ovens at 3.30am.
It is a labour of love for Olaf whose best seller is a traditional baguette, of which he sells up to 200 each weekend.
It's worth a visit to Zarbo to watch a master baker at work and fire a question or two at him.
Meanwhile in Devonport, Frenchman Vincent Marlier has a slightly later start time at 6.30am.
At his Pyrenees bakery he imports authentic pre-prepared bread directly from France and then bakes it off.
"Customers travel that bit extra for these French breads," he says. It seems these French breads travel a bit too.
Vincent knows his bread. "In France we like to eat bread with each meal, so we need to have plenty."
And his best seller? French baguettes at $2.50 each. He says he sells more than 200 baguettes every weekend. Other popular breads are fruit breads and the Mediterranean styles with olives.
Andrew Fearnside's love of bread was inspired by a gig in the bakery at London's Le Pont de la Tour in the mid-1990s.
The owner of Wild Wheat says his crew bake 24 hours a day to keep up with demand. Andrew started the business in 1999 with a passion to create breads that gave Kiwis who have travelled the variety they had tasted around the world. He enthuses over ciabatta and sourdoughs but not half as much as one lady who came in to the shop recently claiming to be "addicted" to the rosemary sourdough loaf. His weekend best seller is the Turkish pide for $5 - about 400 fly out the doors every Saturday and Sunday into Auckland homes.
Marx Bakery is a specialist bakery in St Heliers that bakes gluten-free breads and other products.
Marie, who runs the shop, says there is a call for gluten-free products and that their bread promotes itself. "Over the past 10 years the business has built up through demand, and numbers are continuing to increase as we sell nationally."
Marx adds no preservatives and their most popular two loaves are the flaxmeal loaf at $9.10 and the crusty Italian at $7.80.
Both are a kilo in weight and are substantial breads.
Match your breads to foods as you do your wines.
* Hearty wholemeal loaves can be cut into wedges with soups and stews.
* Nutty walnut or oat bread matches robust cheeses.
* Thin slices of pumpernickel bread go with smoked salmon.
* Baguettes go with ham, mild cheese and fruits.
* Other French breads are great to dunk in coffee.
* Ciabatta bread is great with cured meats, eggs or to mop up sauces.
* Pide makes the best BLATs with bacon, lettuce, avocado and tomatoes.
* Rye breads make substantial sandwiches stuffed with salads.
* Flaxmeal goes well with jam or honey for breakfast.
* Mediterranean style loaves should be torn and dipped in olive oil.
Make your own
If you fancy yourself as a baker, try this recipe. Making bread is a bit like a workout with lots of kneading, and a test of patience while you wait for it to rise and then bake. But the result is always worth it.
Ingredients
4 tsp dried yeast
1 tsp sugar
450ml of warm water
4 tsp olive oil
1 1/2 tsp salt
750g white flour
Method
1 Dissolve yeast and sugar in water (not too hot).
2 When frothy add oil, salt and little flour, beat until smooth.
3 Use a wooden spoon to mix in remaining flour, leaving some aside to flour the bench for kneading.
4 When mixture is elastic, place on the floured bench.
5 Knead the dough with heels of your hand folding and pushing the mixture into its centre.
6 Knead for about 10-15 minutes until dough is elastic.
7 Leave to rise until doubled in size.
8 When ready, punch dough down and gently knead for a few moments.
9 Shape dough and place on lined baking trays. Heat oven 200C or gas 8, fan bake 180C.
10 When doubled, bake for about 40 minutes.
11 Remove when golden brown and place on a cooling rack.
Tips
* Buy a high grade flour suited to general bread making. Experience and taste will make you decide whether you need extra gluten to work up a better crumb. Those available in New Zealand are good.
* To yeast or not to yeast? Without yeast, unleavened bread is produced, which is easy to make but won't have the risen look and taste. Risers commonly used are sourdoughs or yeast.
* Yeast for breadmaking machines is usually added to the flour directly and doesn't require water to start it off. Available on most supermarket shelves.
* Fresh yeast has a short life but can be frozen. It can be difficult to source, ask at a local bakery.
* Dried yeast is always readily available in supermarkets and very easy to use; check the use-by date though.
Where to get the best bread
* Zarbo
24 Morrow St, Newmarket, (09) 520 2721.Open: Mon-Fri 6.30am-6pm, Sat 8am-5pm, Sun 9am-4pm. 116 Parnell Rd, Parnell, (09) 377 5550. Open: Mon-Fri 7am-6pm, closed weekends.
* Pyrenees
87A Vauxhall Rd, Devonport, (09) 445 0021.Open: Wed-Sun 8am-5pm, Fri until 6pm.756 New North Rd, Mt Albert, (09) 846 8561Open: Mon-Sat 8.30am-6pm, Sun 8.30am-5pm. 371 Remuera Rd, Remuera, (09) 520 2900. Open: Tues-Fri 7.30am-3.30pm, Sat and Sun 8am-3.30pm.
* Wild Wheat
Wholesale and Factory shop: 114 Picton St, Howick, (09) 535 9262. Open: Mon-Fri 7am-6pm, Sat and Sun 7am-4pm.Retail shops: 811 Mt Eden Rd, Mt Eden, (09) 631 7012.Open: Mon-Sat 7am-6pm, Sun 7am-4pm. 1/67 Lake Rd, Belmont, (09) 446 1091. Open: Mon-Sat 7am-6pm, Sun 7am-4pm.166 Hurstmere Rd, Takapuna, (09) 489 8248. Open Mon-Fri 7am-6pm, Sat and Sun 7am-4pm.
* Marx Bakery
15 Maskell St, St Heliers, (09) 575 4472. Open: Mon-Fri 8am-4pm, Sat 8am-3pm.
* Diehl's German Bakery
5/65 Hillside Rd, Glenfield, (09) 443 7992. Open: Wed-Fri 7am-2pm, Sat 7am-1pm.