Planning a backyard redesign does not necessarily mean breaking the bank. Justin Newcombe explains how to achieve a luxury on a shoestring.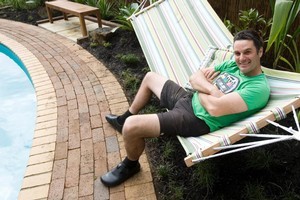 Along with swingball and a trampoline, a swimming pool is a much-loved Kiwi backyard companion. If you've just put a pool in, then landscaping can add a hefty chunk to the final bill, or if you've inherited someone else's hand-me-down nonsense, what should be the centre of attention can look cheap with not a lot of cheerful. Over the next three weeks I'm going to show you a few tips and tricks so that you can turn your underwhelming pool area into a convivial, soothing, altogether more pleasurable place to park yourself over summer - without breaking the bank. We achieved this makeover for less than $2000. And if you don't own a pool, you could build this garden anywhere in your backyard.
Fencing around a pool has to be primarily functional. You need to follow closely the regulations laid down by most councils to ensure child safety. The other function of the pool fence is as a background to the pool itself, setting a tone or style. Poor pool fencing is often a precursor to swimming pool ugliness, but by putting a little more thought into this part of your landscaping you can create an excellent background for your planting and seating areas, and existing features like paving can look a lot less tired .
I decided to give this pool a bit of a resort feel and after doing a bit of research at Bunnings I went for a bamboo roll screen. I built the screen in front of the existing pool fence. This meant that the existing pool fence will still comply with all council requirements and I was free to build my new fence any way I wanted.
The next key component was installing a hammock. A hammock is not the most expensive item in a garden but in my book it's the most luxurious, and a way to start as you mean to go on. Once you're gently swinging and spending more time in your garden, one thing will lead to another and you will naturally begin to enhance your environment. A tree just shady enough to take the sting out of the summer sun, a small table to stand a refreshing drink, followed by a few well-positioned plants, and hey presto, by the end of summer you'll have a garden that works for you.
In our pool garden I saw the hammock as a real opportunity to create some drama. Continuing the tropical resort theme, I designed the hammock structure to suggest a waka. Two large macrocarpa sleepers created a bow and a stern, so the hammock became the hull.
One of the biggest mistakes in hammock installation is not putting the posts wide enough apart. Hammocks seem to stretch for ages so it's important to have a bit of room to take up the slack.
I also used rope which can be paid in over time until the hammock is fully stretched (chain is also a great idea). For the first few months stretching the hammock could be the perfect garden job for you - "sorry honey I'm actually really busy right now ... stretching the hammock".
Well, someone's got to do it.
Next week
Part 2: How to create a paved sitting area.