Herald on Sunday rating: 3.5/5
Address: 185 Ponsonby Road
Phone: (09) 360 2001
Website: sundaypainters.co.nz
Open: Tuesday-Saturday from 4.30pm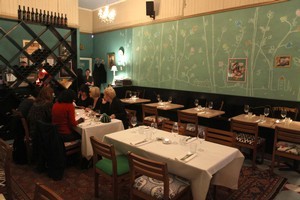 To judge by the number of celebs littering this new Ponsonby Rd eatery, it's the hippest place on the strip. Its fashionability will have taken a dive since the Professor and I were seen there, of course, but it will probably still be busy.
Like so many places on the strip, it has its share of people who believe that not only must one dine, one must be seen (and heard) to be dining. But as the telly types came and went, the din rose and fell and the Professor and I amused ourselves by seeing how loudly we could make rude comments about the brayers without their noticing. Very loudly, it turns out.
These premises were home for many years to Star Horse Takeaways, whose all-you-can-eat smorgasbord made up with generous portion sizes for what it lacked in subtlety and nuance.
It must have taken a long time to scrape all the pork grease off the walls, but the new owners, Esther Lamb and James Kirkwood, have done a wonderful job. The pressed-tin ceiling has, mercifully, escaped obliteration or replacement over the years, and there's plenty of narrow-gauge old tongue-and-groove lining.
The decor - a sort of William Morris meets Aubrey Beardsley affair - is dominated by cool-green faintly japanesque designs on the walls and some fabulous gathered curtains which bespeak a riotously self-confident aesthetic sense. The effect is a bit like sitting in the drawing room (albeit during a rowdy party) of a very interesting aunt.
This slightly homely atmosphere extends to the menus (handwritten, photocopied pages held together with pretty ribbons) and the service has the personal touch, too: Lamb and Kirkwood, unassisted on the Friday night we were there, move unflappably among the tables, enjoying a laugh and engaging diners in genuine conversations rather than reciting the "are you ready to order?" formulas.
The food - a Kiwi inflection on the basic French bistro - matches the setting. Sunday Painters isn't trying to be a fine-dining destination and I mean it as a compliment when I say that the nosh reminds me of the 80s Ponsonby institution Fed Up Eatinghouse.
It's more upscale, of course, but unfussy and unpretentious; the food is not trying to be smarter than the diner.
The half-dozen oysters (big, juicy beauties from Te Matuku on Waiheke) came with a vinegary dipping sauce and piles of dark-brown bread. The battered mussels were not sloppy and greasy like the fish-and-chip-shop standard, but firm and tight and drizzled with a most suitable creamy walnut sauce.
The rest of the short menu runs to the bistro standards (steak frites; fish on a fennel-inspired tapenade; house-smoked salmon with a salad of mint and (more) fennel).
We went for the more unusual offerings of a crumbed and deep-fried rabbit leg (with a nice red-cabbage slaw) and a sausage made with a duck-neck casing and a fragrantly flavoured pork-mince stuffing, which came on puy lentils.
Both of these would have benefited from a sauce - the rabbit in particular was distressingly dry - but the plainness of the conception was most pleasing.
We finished with a pair of tiny cremes brulees (one classic; one coffee) and a rhubarb pie (more a tart, really) both of which were home-made and delicious.
This is classy comfort food and once they iron out a few kinks - and the brayers and celebs move on - it will be a must-visit.
Ambience: Comfy drawing room
Vegetarians: Virtually ignored on the August menu
Watch out for: Celebs
Bottom line: Comfort food and relaxed surroundings
THE BILL
$131 for two
Oysters: $15
Beetroot Salad: $16
Rabbit $18
Duck-neck Sausage: $25
Greens $6.60
Desserts (two)$20
Wine (two glasses) $30.50