Ashley Campbell meets Remuera couple Sharlene Bravo and David Morello who love the eateries their suburb has on offer.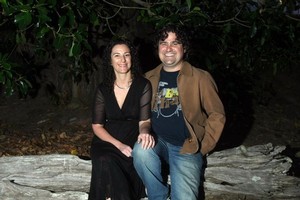 Sharlene: By day David's a business development manager and I'm a marketing manager. By night, David turns into the drummer for Auckland rock band Fuser and I've created my own role as events director for my circle of friends.
But when we're not selling, marketing, drumming or playing social secretary, we're at home in Remuera with our two seriously cute lynx-point Thai kittens, Tiamo and Gizmo, and, every second weekend, David's son Jared.
I know Remuera well - I grew up next door in Orakei and went to secondary school at Dio [Diocesan School for Girls], which is just up the road in Epsom. I lived with Mum and Dad for five years on the North Shore, but Mum didn't like being so far from her ladies who lunch, most of whom live on this side of the bridge and they moved to Remmers in 2001. I followed and except for a couple of years travelling, I've been here since 2002.
David: I'm new to Remuera. I came to New Zealand from Canada 13 years ago. First I lived in Mt Eden and Onehunga, and then I filled out an application form and was accepted into Remuera.
I'm a drummer in a rock band, so of course I wasn't sure about it. When people told me there was a place like Remuera out there, I thought it would be snobby, but it's far from it. It's really nice.
Here's an example - at Kebab Serai on Remuera Rd they've got to know us so well I just show up and they go "no onions, lots of cheese".
Sharlene: But there are lots of other things as well. For a start, it's close to the city and close to the motorways. Whether it's business appointments on the North Shore, out south or studio time in Mt Albert, wherever you need to go you can get there pretty easily from our place.
Anything further east or by the water from here means you've got to fight all that Tamaki Dr traffic.
And it's got good schools, for the future.
We also love all the local parks for walking in. Our favourite is Waiata Reserve, which is a hidden paradise - complete with nice folks walking their dogs, beautiful houses, rolling hills, a small forest and even a stream. And down around Orakei Basin (Ayr Reserve and Thomas Bloodworth Park) is another great walking place.
We often go down there on Saturday morning, followed by a coffee at Pasta Italia on Brighton Rd. From the outside it looks like a small pasta place, but it does great coffee and luxury chocolates.
David: Remuera's got some great takeaway shops and cafes. As well as Kebab Serai and and Pasta Italia, we really like Shahi Indian Cafe on Remuera Rd, which does an amazing vegetable kofta curry.
We also like the Villager Bar, just over the road, and we'll often have a drink while we're waiting for our takeaways from Shahi. We're not big drinkers, we'd rather stay home and have a glass of wine. But we go out with friends from time to time and it's a good, social place.
We're also regulars at Remuera Video Centre and at Mt Hobson Dairy, for a strange reason. It's a bit random, but I can buy drum magazines at the dairy just up there on Remuera Rd. Who would've thought you could buy drum magazines in a Remuera dairy?
David and Sharlene's picks
* Shahi Indian Cafe, 610 Remuera Rd, ph 523 5496 Their vegetable kofta curry is to die for.
* Kebab Serai, 332 Remuera Rd, ph 522 5656 They get to know your orders better than you do.
* Pasta Italia, 58 Brighton Rd, ph 373 3735 For coffee and chocolate.
* Waiata Reserve, accessed through Orakei Rd, Combes Rd or Waimea Lane.To walk off all that good food.