Justin Newcombe demonstrates how to construct seed-raising trays out of leftover wood.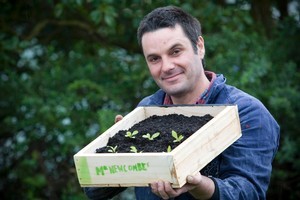 I've decided this year to try to eliminate as much plastic as possible from my garden. One reason is the obvious environmental benefits, but the other is aesthetics. I like timber.
A seed-raising tray is a project which you can make out of leftovers from other projects and which will take up little of your time. Once you get started, it takes no time at all to knock out four or five of them.
These trays are not only limited to seed-raising. You can employ them to grow micro greens for salads and sandwiches, or even herbs.
Another benefit is being able to make them any size depending on available space, garden size and the number of plants you want to germinate. I think it looks superb having lots of assorted, timber boxes all together. It's the difference between messy and interesting.
And once a seed tray finally gives up the ghost, you can recycle it into your compost.
Step 1
Make a quick drawing of your seed tray and list the measurements you need to cut. Then cut your timber to these lengths.
Step 2
Hold the sides of your tray together and drill two or three small holes through the timber join. I used 6mm-wide dowelling on my box, so have used a slightly smaller 5.5mm drill bit. You could use nails or screws but dowelling gives a nice finish and you can sand over it.
Step 3
Glue the edges of the timber and press together with the drill holes lined up.
Step 4
Hammer the dowelling into place and then repeat steps 3 and 4 on each corner.
Step 5
For the bottom of the seed tray I used a slightly thinner profile timber and spaced it evenly across the bottom of the box, nailed with small pins.
Step 6
Give your seed tray a light sanding. Rub with linseed oil to give a little protection.
Step 7
Decorate as you wish. Blackboard paint is great for labelling and dating your seedlings.