Herald on Sunday rating: 4 1/2 out of 5
Address: 32 Anzac St, Takapuna
Phone: (09) 486 2249
Open: Tuesday to Sunday from noon
Website: marvelgrill.co.nz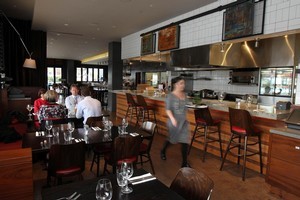 The steak knife, which started as a sophisticated dining accoutrement, is now a joke - the consolation prize for competition losers or a bonus for anyone who shops via infomercials.
And with decent cuts of beef freely available, the knives are also redundant. If you need anything sharper than an ordinary dining knife to cut a steak, you have either ordered the wrong thing or you're eating in the wrong place - probably both.
I suspect that when they lay one beside you, as they do at Marvel Grill, it's part of the drama, not a hint that the approaching piece of meat will have the texture of a rustler's saddle.
Certainly the dimensions are dramatic: these aren't your wussy ginsu foils that look like they were made for filleting whitebait. They're big-bladed and heavy-handled and just what a fellow needs when he's about to start carving up the dismembered body parts of an erstwhile cattle beast.
That was what I had in mind at Marvel - and any other intention would have been foolish. The newest venture by Alisdair Gribben (Vivace) and partner Wendy Sutherland, this is a New York-style steakhouse that means serious business.
Vegetarians can toy with a side of roasted brussels sprouts or macaroni cheese, while the rest of us tie napkins around our necks to catch the blood drizzling down our chins.
The site, on the concourse leading to the cinemas, was formerly occupied by the well-meaning but rather confused Onion Johnny, of which the large wall photo of a French onion farmer is the only remaining trace.
The new owners have cleared the rest of the twee clutter in favour of the sleek, pleasingly traditional look - dark wood, red leatherette. If it weren't for the fact that there's parking outside, you might think you were in Brooklyn.
The menu, on a heavy-gauge A3 paper (with a solid wine list on the reverse), has heaps of choice, from cold starters (charcuterie, patés, salads) to hot "skillets" - small pans which land sizzling from the open kitchen where high flames dance. These range from tantalising starters - grilled haloumi on mushrooms; roast baby beets with chevre (both sensational) - through to the more substantial lamb rump or seafood grill.
Further down the list, the aforementioned serious business begins: skewers and seafood, and a section unabashedly called "butcher's cuts", to which my eye gravitated.
Of my steak of choice - the fist-thick half-kilo rib fillet, on the bone as it should be - it is hard to speak too highly. Seared, if not lightly charred on the crispy edges, it was richly bloody within, as requested. The large chunk I took home made sensational rolls the next day.
An accompanying salad of watercress and shaved manchego (a hard, Spanish sheep's milk cheese) and fries (skin on, greaselessly finished in the oven, cloud-soft inside) made the complete meal.
The Professor, not an enthusiastic carnivore, made do with that skillet of haloumi and a monster blob of excellent mozzarella with glazed tomatoes. This last was accompanied by a pile of prosciutto which - a tad dry and over-salty - was the evening's sole false note. But the sensational house-specialty icecream sundae was an apt and excellent conclusion.
If you're heading for Marvel, bring an appetite: the portions are designed with the hungry in mind. My recommendation is that you order the rib-eye to share - and then refuse to share it.
Ambience: New York, New York
Vegetarians: Getouttahere
Watch out for: Big servings
Bottom line: Marvel-lous
THE BILL
$129 for two
Haloumi: $9
Beets: $12
Mozzarella prosciutto salad: $28
Rib-eye steak: $38
Watercress salad: $6
Fries: $6
Sundae: $9.50