Address: 327 Dominion Road
Phone: 09 630 3378
Website: gorgeouspizza.co.nz
Cuisine: Pizza
Rating: 8/10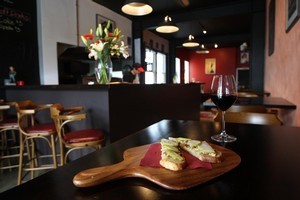 Dominion Rd is a haven for great little eateries of all ethnicities and origins. We were off there to find a slice of New York City at a newly opened pizza bar called Gorgeous, where we'd heard owner and pizza chef Wayne Hull was turning out some fiendishly good eats.
Walking in, Gorgeous feels all cosy and intimate with candles glowing on each table, blushing red walls and a huge blackboard wall featuring the drinks list, including wine by the carafe.
There's counter seating if you want to watch the pizzas being built and there's a large wooden communal table if you're with a big group or feel like being sociable with some strangers. Hull is keen that Gorgeous is a meeting place, as well as an eating place, and his convivial approach puts everyone at ease as soon as they arrive.
There are "bites on the side" to get you started - garlic bread and crostini, all of which are made with bread baked daily in-house. We tried all three of the crostini on offer. Our favourite by far was the gorgonzola, fresh pear and walnut with a drizzle of honey - an unbelievable combination of flavours and textures.
The fresh prosciutto and parmigiano option, finished with fresh basil and garlic oil, also won our hearts with the taste of freshly torn basil leaves reminding us of summer. The third choice, prawn and pesto, was let down by limp prawns. A shame as Hull makes his own pesto and this was delicious.
The crostini warmed our appetites up nicely and we were ready to try the pizza. Though opinions differ, NY style pizza is denoted by one important criterion - the crust. It must be thin and slightly charred but still light, chewy and soft enough to be folded.
Heartened by the shakers of chilli flakes and parmesan on each table (as you find in many authentic pizza joints in NYC so that you can personalise your pizza), Gorgeous was looking like the real deal so far.
The pizza menu is hilarious as each pizza is designed and named after a supermodel, fashion icon or actress. Kate Moss and Elle make the cut as do Naomi, Christy, Tyra and plenty more. But before you think this place is gimmicky, think again.
I'm a pizza purist so "gourmet toppings" usually leave me cold but the combinations here, though not all traditional, have been well thought out. The Sophia sports sliced roasted potatoes, bacon and house-made pesto while Elle gets the vegetarian treatment with olives, spinach, feta, red onion, hummus and mozzarella. There's also a MYO (make your own) option.
We were told that one of the top sellers was the Lucy Liu, topped with Peking duck, spring onions, hoisin sauce and cashews but we politely declined, favouring instead the more authentic sounding Scarlett and Naomi. More on that later.
Each pizza is hand built and served in two sizes at 9 or 12 inches. Scarlett was a winner. She was all quality with her prosciutto, basil, rocket, mozzarella and goat's cheese. The flavours were all clean and distinct and the rocket was as this herb should be - peppery and herbaceous.
Naomi promised to be feisty with spicy meatballs and chorizo, along with sun-dried tomatoes and mozzarella, but for once in her life she showed restraint and we had to pep her up with some chilli flakes. The bases of both were superb.
Having all but scorned the Lucy Liu I can now confess that I returned a few days later to satisfy my curiosity and ordered a take out. I slunk out of there like someone breaking the law and sat in my car to sample it while it was still hot.
Verdict? Once I got over the surprise of having a cashew nut on my pizza, this East meets West concoction didn't offend my puritanical beliefs about pizza one bit. I was impressed.
But back to the night when we dined in. Though we'd eaten more pizza than a catwalk full of models would in a year, we couldn't resist the New York style vanilla cheesecake - "set not baked". Made on the premises, it was marvellous - smooth and silky in texture, not too sweet and with a buttery biscuit base.
Spending an evening at Gorgeous is well... gorgeous. It's hip and sociable, with service that is casual yet conscientious, the food is fabulous and to have such a comfortable sit-in pizza bar on Dominion Rd is a real treat.
From the menu: Crostini starters pear, gorgonzola & walnut, prosciutto & rocket, prawn & pesto $9 each, 3 x regular (9 inch) pizza - Scarlett, Naomi and Lucy Liu $17-$18.50, home-made NY cheesecake $9, old-fashioned banana split $9.
Drinks: Wine - by the glass, bottle and carafe and select beers.