Vibha Soni moved to Auckland from a computer career in Mumbai, India. Now she and husband Sanjay run an Asian spice store in Birkenhead, North Shore and sell their Indian spice mixes online and to more than 300 shops around the country. She tells us why she and Sanjay, along with son Swayam, 17, and daughter Niyati, 13, have come to love the neighbourhood.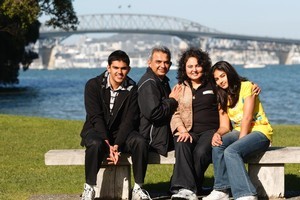 When Sanjay got a job in Hinemoa St we moved here. Two months later I found admin job in an office just around the corner. I remember thinking it just looks so beautiful out here. Vibha and I used to meet for lunch, and we could walk to work from our house in Willow Ave; we thought that luck was on our side.
I was not so happy with my job. When we'd come here [in 2001] we couldn't find a spice store anywhere in the North Shore. We'd have to go to Sandringham or South Auckland. That gave us an idea - "why don't we start a spice business". We didn't know retailing or importing, but we thought let's give it a shot. All Indians love their food, it's part of our culture. We believe we are what we eat - we are Punjabi Hindu - so it's our culture to always look for the most natural way. But it took coming to New Zealand to understand something we'd always taken for granted.
Birkenhead people are so kind. People used to come into the shop and spread the word. People are so honest - nobody ever stole the newspapers that would be left outside our door - back in India they would have.
It wasn't easy coming to New Zealand, but it's been so rewarding; the businesses here have supported us. When we wanted to do cooking classes to test out our spices, Jackie at the Highbury Community House was so helpful, she really got behind us to publicise it. The parents from Birkenhead Primary School were so excited when their kids learned cooking from us. Jeremy at the Aussie Butcher was one of our first customers. And David from the National Bank is a gem of a person, he's president of the Business Association, he gave us such good advice. This is what I love about New Zealanders, they were all so open and honest. We came here because we wanted our children to have those values, to have that work-life balance. In India it was such a challenging environment, working 18 to 20 hours a day. Here there's more to do because we did the business and website all ourselves, but people help us out and are here for us.
Sanjay is passionate about cricket, he's been in the Birkenhead Cricket Club for seven years. He was a skipper and I was a cricket widow. Next door [to the shop] is the Birkenhead Primary hall, where we play badminton in the winter with our friends. It's a great way for the locals to do things with their friends and it gives some funds back to the school. The swimming pool was a favourite with the kids all summer, there was the climbing wall and when the library was there the kids were there all the time.
Little Shoal Bay is the best. We've had so many barbecues there. The wharf is beautiful too - one day Sanjay dreams of having time to just fish off there all day. We don't need to go anywhere else for anything."
Catherine Smith