At New Zealand Fashion Week, some of our top wedding dress designs will be taking to the catwalk. We talk to organiser and editor of NZ Weddings magazine, Melissa Gardi, about the show.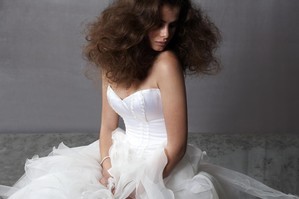 This is the first time there's ever been a wedding show at NZ Fashion Week. What made you decide to do it?
Internationally the grand finale of any fashion show is a wedding gown and yet it's been rare to see that show-stopping moment during NZFW. There are some extremely talented and creative New Zealand designers in the wedding category and I thought Fashion Week would be a great way to celebrate them, give them a platform for international recognition and to display their trend-setting styles.
On top of that, the tradition of marriage in New Zealand is having a renaissance with the number of weddings increasing in recent years. With a bride-to-be looking for something unique and personal, this is an opportunity for her to see the emerging trends in bridal wear - it will bring all of what our magazine, New Zealand Weddings, stands for to life.
This is obviously going to be something very different from what you'd find at a wedding show. Can you share how?
Considering the context, this show will be for those who not only love fashion but love buying New Zealand fashion.
These dresses and suits are designed and made in New Zealand. They aren't mass produced - they're carefully and creatively constructed with intricate handiwork. Of course there will be some designs that are more fashion-forward than what you'd typically see at a wedding show.
Who are the designers are involved?
The six designers who will show bridal gowns include Anna Schimmel, Jane Yeh, John Zimmerman, Kate Dowman, Louise Anderson and Vinka Design. Crane Brothers will parade menswear, while Modes will have looks for flower girls. Each will show about eight designs.
What was your brief to them?
I asked each of the designers to create new, inspiring and romantic designs to express their individual style.
When it comes to styling, stage setting, music who are you working with and what has the process been?
There is a lot that goes on behind the scenes. While fun and creative, it's not a simple process - in some ways it's like organising a wedding. There are invitations, music, and venues to decorate, but in this case you have 1000 guests, about 60 looks and instead of an aisle there's a 30-metre catwalk. Similar to planning a wedding, the people you surround yourself with can make or break the momentum. What's making things easier for me is the extraordinary people I'm working with. Esteemed producer Marissa Findlay is helping pull everything together, while Ana Macdonald (Viva's fashion editor) is styling the models. Leisa Welch and the Jane Iredale team are doing the models' makeup while Schwarzkopf via Vada Salon will be styling hair. Then there's Ruby & Willow designing invitations and Sophie Findlay putting together our "playlist", so-to-speak. Not to mention all the help from NZFW with guest seating and lighting.
What do you hope people will get from it?
For many couples, finding their ensemble is a highlight of planning so hopefully grooms and brides-to-be will see a look that connects with them. Besides, it'll be a fun way for a bride-to-be to check out the newest trends in bridalwear with their mum, their man or their friends. They might find looks for the groom and bridal party all in one place. And given that a wedding is all about the celebration of love and joy, I hope that people will walk away feeling uplifted and in the mood for a wedding.
As an editor, used to producing a magazine, what has been the challenges of producing a fashion show?
There are definitely similarities - from deadlines to budgets - but instead of translating a vision into 200 or so pages of a printed magazine, we're trying to fit the vision into a live 30-minute performance.
Describe your own wedding?
I was lucky as I had two - and that was years before I worked on a wedding magazine. My husband and I shared an intimate, vintage-style wedding with 50 guests at the Parnell Rose Gardens.
A few months later in the States (where I'm originally from) we celebrated with a Mexican fiesta, complete with a Mariachi band, pinatas, margaritas, and 120 guests. I wore a Kate Dowman gown to the first, and a Frieda Kahlo-inspired design by Annah Stretton to the fiesta. Both were fun, but as with all weddings time flew by too quickly.
After years of writing/covering weddings, what is the top tip you can give to creating the perfect day?
Reflect your own personality - your passions and your interests - in the details. There are no rules these days, except of course to remember what the day is all about - your love and commitment to spending the rest of your lives together.
* New Zealand Weddings Magazine Bridal Show is on Wednesday September 22, with a special second show, free for the public attending Fashion Weekend, on Saturday 25 at 5pm. For more ideas and inspiration, New Zealand Weddings spring issue hits stands Monday, September 27. Viva has a double pass to front row seats of the Wednesday show and a double pass for the Fashion Weekend. To go in the draw, simply write your name address and phone number on the back of an envelope and send it to NZ Weddings Show Competition, Viva, NZ Herald, PO Box 3290, Auckland. Entries close 15 September. Winners will be notified by phone.