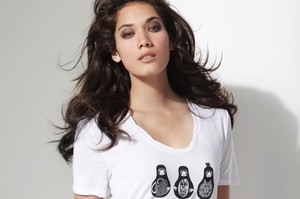 Leading New Zealand artist and printmaker Penny Stotter has designed a one-off T-shirt for the Max Foundation for New Zealand Women. The design is inspired by her popular Kiwi Dolls prints and will retail for $59, $10 of which will be donated to the Max Foundation. In the past year, the foundation has given away grants of around $75,000 to support "individuals and intiatives who actions enhance and inspire the wellbeing and advancement of New Zealand women". We like. Penny's T-shirts will be in Max stores from next Monday.
Penny Stotter for Max Foundation for New Zealand Women T-shirt, New Zealand Mint Black Onyx ring
New girl in town
Wellington designer Andrea Moore opens her new boutique store today at 120 Ponsonby Rd (next to Carlson). Look out for her new range of locally made accessories coming soon. To find out more go to andreamoore.co.nz
Charmed
Moisture Mist's popular Beauty Cake compact foundation goes on sale in a limited edition compact this month. Last year singer and jewellery designer Boh Runga came up with a cool blue compact, this time her collaboration with New Zealand Mint has yielded a white compact with a smart lock design and a bonus matching charm. The set is priced at $40 and available from Moisture Mist stockists including Farmers, from September 17.
Drop in the bucket
It's that time of year when products start popping up festooned with pink ribbons. October is official Breast Cancer Awareness Month, but already we're seeing items go on sale that contribute towards breast cancer charities. It pays to ask how much is being given, sometimes it's only a small percentage and while it all adds up, we think shoppers should be given a clear answer. Pink ribbon campaigns have become widespread and are particularly popular with the cosmetics industry because of its female market. We'll show you some of the most enticing items as they go on sale.
Black magic
Black onyx is the star of New Zealand Mint's latest Me collection. Standout pieces include a giant cocktail ring ($225) and teardrop earrings ($142). Sterling silver twins with the semi-precious quartz-family stone which has been long prized for its ability to be carved and faceted and for its reputed centring properties. The range is designed by Sanya Bernard, who helped bring Boh Runga's collections to market, who says her own European heritage has given her an appreciation of the history and glamour of onyx that she wants to share with New Zealanders. Her designs include mythological and religious symbols, including crosses and circles. See nzmintjewellery.com for details and stockists.
If the shoe fits
Christchurch businesswoman Nicky Harding-Ifield is on a mission to make sure women with small feet can still have fashionable shoes. Her company Indigo River stocks small-sized ladies' shoes in sizes 2 to 5 and is proving a hit among women around the country. Having suffered from the "shoes blues" herself, due to having tiny feet, Nicky has sourced an exclusive range of stylish shoes. Usually, these are sold via her website indigoriver.co.nz, but this weekend she will be selling directly to the public here in Auckland at the Waipuna Hotel and Conference Centre, 58 Waipuna Rd, Mt Wellington. Sat 10am-5pm, Sun 10am-3pm. To find out more, ph 021 0227 9672.
Colour my world
Fuchsia, purple and orange are a great colour combination seen to maximum impact in MyWalit's super soft leather and suede designs. The 5-year-old company is run by Chris Howell who sold his previous leather goods business to Jimmy Choo and then "retired" to Italy to start again. Goods, including wallets, handbags and cellphone covers, are made in Thailand and exported worldwide, and all look like a particularly successful spin of the colour wheel. Askew stocks a range of MyWalit goods including a handbag at $320 and this wallet, $155.
Trade up
Look out for two makeup upgrade promotions in the next few weeks. Starting on Monday for two weeks, selected Clinique counters are hosting the Colour Open House beauty event, which gives customers a free colour consultation and makeover, plus tips on how to best to brighten up their approach. Find out what colours work for you and how to use Clinique's flattering new season's shades to best effect. Consultations, which include a gift for each customer while stocks last, are available at Clinique counters in Unichem and Life pharmacies nationwide and Centre Pharmacy Milford. Best to book, but drop-in spots may be available.
Revlon is offering women a chance to clear out their old makeup and buy a replacement product of similar kind for a 20 per cent discount. Bring in a gluggy foundation or a dried-up nail polish and get a brand new Revlon version. The deal is on now at Amcal and Unichem pharmacies and runs until September 19, for stockist details see good-things.co.nz.
Younger readers with blemished skin may want to check out Za's great-value Busta Zit Kit. It costs $29, saving you $19 while stocks last and contains cleansing gel, a gel moisturiser, oil blotters and a gloss and mirror.
* Gift-with-purchase offers are a dime a dozen these days, but every so often cosmetic companies come out with their "blockbuster" deals, when you really are tempted to buy a couple of products to qualify for the "free" gift. If you need to stock up it's a great enticement and Estee Lauder's current offer is a standout. Other companies also do a bigger gift once or twice a year, so keep tabs on your favourite brand.
Win with Viva
With Fashion Week on the near horizon we're discovering all sorts of wonderful collaborations between designers and sponsors. One of our favourites has to be leading New Zealand footwear designer Kathryn Wilson and Kim Crawford Wines. To celebrate their partnership during Fashion Week, Kathryn has created 40 limited edition pairs of shoes inspired by the colours of grapes. Viva is delighted to have one pair of these wedges to give away to a lucky reader, along with two tickets to Kathryn Wilson's Fashion Week Show plus tickets to the VIP drinks before the show on 21 September. To go in the draw, simply write your name address and phone number on the back of an envelope and send it to Kathryn Wilson Shoe Competition, Viva, NZ Herald, PO Box 3290, Auckland. Entries close 15 September. Winner will be notified by phone.