French jeweller Thierry Martin has just been appointed head designer at leading Australian jewellers Fairfax & Roberts. On the eve of his trip to New Zealand he talks about his life-long affair with creating beautiful jewellery.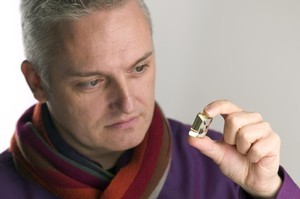 As a child growing up in France ... I was 5 years old when minerals and gemstones became my passion. When I was a little boy I had asthma, and when I had attacks my mother told me, "If you stay calm, I'll buy you a gemstone".
That's how my collection started. Soon after, I started asking for books about minerals and coloured stones.
My love for luxury was first ignited by ... Vogue. I discovered a new world, full of fashion, accessories and jewellery. Jewellery has always been my first love.
My early career saw me ... win the most prestigious international pearl design contest in Japan, being recognised by Poiray and Alexandre Reza, and starting to create suites for Van Cleef & Arpels.
My design philosophy is ... to find an aesthetical result according to a client's wish. To understand a woman's dream. I want to guide the customer towards truth and beauty. I hold the key to everyone's deepest wish: to have something unique, something that has never been done before.
It's like being a dream-maker. And quality is also my passion. For me and for Fairfax & Roberts, the highest level of luxury should be found equally in a simple piece of jewellery as well as in an extravagant one.
When it comes to buying stones for my jewellery I always ... search for the best of the best - well-cut gemstones, rarities and of course those that have never been treated. My knowledge of coloured gemstones (I trained in gemmology in Paris for four years) allows me to give the best advice to clients. I only buy stones I instantly fall in love with. Knowledge of stones cannot just be learned in books, a big part of it is intuition.
My favourite stones are ... With gemstones, I feel equally excited in front of a marvellous agate as I do with a coloured diamond.
Out of everything I have designed the pieces I am the most proud of are ... the collections I designed for the big names of the Place Vendome (Mauboussin, Fred, Van Cleef & Arpels, Mikimoto, Chanel) and in the United States (Tiffany, Harry Winston).
The highlight of my career has been ... to join Fairfax & Roberts, because I'm very interested in working with a high quality of craftsmanship and stones to achieve the best effects. The workshop team work in the same way as I do - we share the same passion for detail.
The lowlight of my career has been ... when other people put their names on my creations and when they won prizes for their creativity with my designs.
Many famous people have worn my jewellery including ... the late Queen of Nepal, for whom I created watches, rings, precious sets and objects. Others include the Sultan of Brunei, the Sultan of Oman, Queen Noor from Jordan, various Saudi princesses and Hollywood stars such as Helen Hunt, Sarah Jessica Parker, and more.
Personally, the jewellery I wear is ... I like lovely watches and I wear a ring in black jade from Myanmar.
When creating a piece of jewellery for a specific client I ... love to draw and bring my ideas to life in front of people.
I have just launched my first collection for Fairfax & Roberts. The inspiration for it was ... the Paris Opera House, Opera Garnier. For me it embodies the beauty of Paris: the sumptuous golden interior, the sparkling lights of the chandeliers, the details of the decor, and the magnificence of the performances.
For the second collection I have drawn inspiration from the place where my passion for jewellery was born: Cannes. This is where as a boy of 15 I saw my first jewellery exhibition and realised I could combine my two passions: coloured gems and design. I spent many holidays in Cannes, and like a lot of people, fell in love with the warmth, the vibrancy and the colours of the Riviera.
My vision for the future with Fairfax & Roberts ... is a real challenge. The passion for detail makes every piece born in the Fairfax & Roberts collection a work of art. I've accepted a contract for five years as I find the work of Fairfax & Roberts to be of equal quality with the well-known Parisian big names. It is exciting to make this house much more recognised in jewellery design.
Moving to Australia has meant ... discovering a new world, new country, new "love story", and new and interesting people. I'm passionate by nature, so it's the right place for me.
The things I miss about France are ... my family, my collection of gemstones and my jewellery books (at least 300).
My team would describe me as ... serious about my work, very passionate and sometimes a little exuberant.
What excites me about jewellery, after all these years is ... to see my creations still in the windows, sites and catalogues of big names, and in the Fairfax & Roberts windows.
It's an emotional journey to follow the making of a hand-made piece of jewellery, from a piece of metal through to the final creation. And to find a new concept is like creating for a contest.
When I'm not designing jewellery you'll find me ... thinking about jewellery or in the beautiful botanical gardens of Sydney, or exploring the streets of Sydney.
* Australian jewellers Fairfax & Roberts will be showing Thierry Martin's new range on models dressed by Liz Mitchell at an exclusive three-course lunch at Huka Lodge, Taupo on September 18. Tickets $125, to book ph (07) 378 0427.