You can make your own raised vegetable bed in just a couple of hours if you have the right tools and materials at your disposal. Justin Newcombe demonstrates.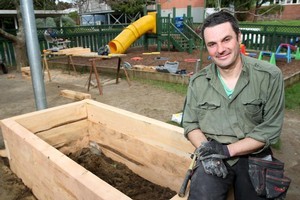 Raised garden beds are now an established part of modern garden architecture, and sleepers give a solid, timeless look. Proper railway sleepers, usually made from jarrah, are prohibitively heavy (they sink in water) and cutting them will warp the hardest saw blade, so instead, I go for macrocarpa every time.
Macrocarpa is much lighter, easier to cut and finish and will still give you a bold landscape structure.
When I called into the North Shore Hospital creche last week to build a planter box for their new kitchen garden, I only had a two-hour window to complete the project while the children went inside for lunch and their nap. But this project is do-able in that time if you have the right materials on hand, leaving the rest of your weekend to decide what to grow in your smart new timber container.
Step 1
Do a rough drawing to work out your timber lengths. Mark and level the area on which you want to build your box.
Step 2
Cut your sleepers to length, then bevel the edges with a plane - this gives a nice finish to the completed box. To make the box stronger I overlapped the corners.
Step 3
To anchor your box in the ground, drive three sets of 150mm long galvanized nails into each base sleeper - one set at each end and one in the middle. Hammer in about 75mm on an angle, then straighten up the ends still poking out. The nails will help bond the concrete to the timber.
Step 4
Dig a hole under each set of nails, half fill the hole with water and pour in instant concrete (follow the instructions on the bag). The concrete will attach to the nails, which in turn will hold the base sleepers in place. I used four bags of concrete.
Step 5
Use a large set square to make sure you place your base sleepers at right angles and a spirit level to make sure they are flat. Take care on this base section as it will dictate the look of the final box. Repeat steps four and five all the way around.
Step 6
Place the next layer of sleepers on top of the base layer, and nail together using 150mm nails. I pre-drilled the holes for these. On the inside of the box nail the second set of sleepers to the base section. Repeat for the final layer.