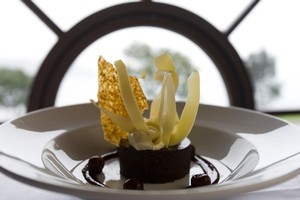 At last, a room with a view. Having put up with mutterings about not having anything to look at during a recent visit to a restaurant, I decided we should visit the seaside to see whether it would put paid to the complaints. It did.
Hammerheads occupies the old Navy League building, a listed example of public works architecture finished just before World War I. In time, it became the site of the TS Achilles and the base for the Tamaki Sea Scouts, which it still is. It was also apparently the home of the Miss Navy League Awards during the 1970s, an annual event now happily a memory.
The building was refurbished in the late 1980s, but retains the lovely art deco windows that look out over the Waitemata Harbour and must be a great place to lose an afternoon in summer. It would also be, I imagine, a great deal warmer in that season.
Because, again, it was cold. The Vue Bar, where we gathered and chatted, had the advantage of a big gas fire, but the dining room suffered, unless you were smart enough to sit under one of the ceiling-mounted gas heaters.
We weren't, but we soldiered on.
The menu, which relies heavily but not solely on seafood, offers eight entrees, some of which can be ordered as mains, and a further eight main dishes.
Our entrees, of seared scallops, generous, sweet and delicious, and seared prawns with palm sugar, chili and lime dressing and a selection of herby things, vanished rapidly. My warm vegetable salad of roasted pumpkin, broccolini, shallots, garlic and pine nuts was less successful - it was bland and rather uninteresting, although it was a good sweet pumpkin.
Brian had eschewed an entree in favour of saving himself for dessert. He also spurned the maritime offerings, favouring instead the beef fillet on oxtail and potato gratin, mushrooms and spinach with Madeira jus. It was, he said, the best steak he'd had in a very long time.
Bill and Lesley both went for market fish, blue cod this night, with a mix of other seafood, lemon, lime, vanilla and coriander. Excellent, they said, which is especially high praise from Bill, who seldom orders fish in a restaurant.
Dean's game fish, yellowfin tuna, came with tempura prawn cutlets, orange, cucumber, more herbs and a honey mustard dressing. Dean, from Perth, has access to a goodly amount of Australian crustacea, but he was very impressed with the local offerings.
My grilled snapper fillets with prawn, rocket and preserved lemon risotto, were again something of a disappointment. The fish was moist and beautifully cooked, but the risotto was grainy rather than creamy, and insufficiently seasoned. A side dish of fennel with tomato and red onion was soggy.
Desserts of pannacotta with rhubarb and a very good and crisp orange and vanilla brulee rounded off the meal for Bill and Lesley, but Brian's Valrhona chocolate and liqueur cake with sweet and sour cherries and mascarpone was the star of the after-show, making his entree abstinence all the more worthwhile.
Rating out of 10

Food: 8
Service: 8
Value: 7
Ambience: 8

Our meal: A hefty $541 for four entrees, five mains, two sides, three desserts, coffees, wine and beer.

Wine list: Plenty to choose from, New Zealand whites and Australian reds, so few surprises. Good choice by the glass. The O:TU Otuwhero Estate sauvignon blanc ($50 the bottle) was excellent.

Verdict: Hammerheads has been in business for 20 years, and it shows. The location is enhanced by great service and well-presented seafood. An Auckland icon that shouldn't be ignored.