You could do breakfast in bed, or German-style liverwurst and beer. But a Kiwi barbecue with mates may be the best Father's Day treat.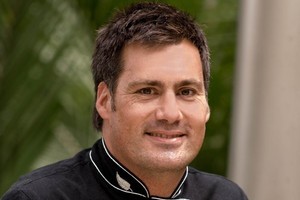 What would Father's Day be without a bit of a feast? You could do it the easy way with breakfast in bed and a latte while dad relaxes with the Sunday paper. Or you could do it German-style where mannertag or men's day involves wagons filled with beer, spirits, wine, liverwurst, salami, vegetables, eggs and cheese.
In the US, at Texas' Chef Point Cafe, Father's Day is all about meat. The cafe's world-famous "better than sex chicken" comes with a Father's Day special of a 500g Wagyu beef burger and braised long ribs. As steak goes, Wagyu beef is highly prized and the cut for grilling on the barbecue. In Japan, kobe beef comes from the black Tajima-ushi breed of Wagyu cattle, and is fed with beer and massaged with warm sake.
When dabbling in the kitchen, dad needs real gadgets. We are not talking about barbecue sets of long flimsy utensils here, but the likes of a granite mortar and pestle, so he gets a workout while he cooks. What about a pizza stone or black cast-iron pans that can be pre-heated in the wood-fired oven to sear those Wagyu steaks? Or, if his skills need a little work, pack him off to Auckland's seafood school with some mates for a lesson.
In fact, cooking and eating outside with his mates may be the best way to spend Father's Day. I did it once - we all headed to Waiheke Island and scootered around collecting ingredients for a big cook-up, stopping at vineyards for a spot of tasting. We finished up outside around the grill, cooking away as the sun set. That's the Kiwi way to do Father's Day.