Address: 435 Beach Road
Phone: (09) 479 5374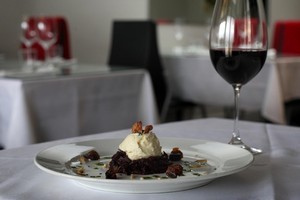 The grass is always greener over the hill and the food is always better when it's on someone else's plate. This well-known feeling washed over me at the Narrow Table when the standout dishes were all served to the other side of the table.
This started with the French goat's cheese mousse with beetroot salad, served with a little garnish of dates and almonds. Although it didn't look enormously impressive, the blend of light consistency and distinctive flavour was memorable, as my snitched mouthful confirmed.
Then the main course of a rabbit and chicken "white stew" was terrific, a great example of bistro-style cooking, with melting and well-flavoured meat and a generous fragrance of tarragon. Then the simple excellently executed lemon brulee outpointed my dessert choice for a three-nil scoreline.
This is not to say that my dishes were poor. I hadn't had much difficulty in making my choices. The menu is fairly short with five first courses and half a dozen mains, not counting the specials, and their eel starter, some variant of which always seems to feature, had run out.
But the hapuku and lemon fish cakes with sherry and mustard dressing were pleasing with a really creamy texture. Having coincidentally commented earlier in the day that venison seems to be making fewer appearances in current menus, I was set on the wild venison cannelloni with port wine and truffle. But some other, presumably lucky, customer beat me to the last serving. So it was back to a real old standby, beef fillet with puy lentils, red wine and thyme.
The beef was as it should be, quality meat of generous dimensions and cooked exactly as I had specified, with accompaniments that added richness. The main courses come with potatoes and broccoli to complete sound, hearty meals.
For dessert I also reverted to an old standby, which I haven't seen on a menu for a long time, a classic crepe Suzette which was, as tradition demands, a light pancake smothered in a caramelised orange liqueur sauce.
I was unrealistically disappointed when it wasn't flambeed at the table but this might have been a bit flamboyant for the unpretentious nature of this establishment, not to mention a bit risky in view of the tight dimensions.
The Narrow Table seems to have stuck to the principles with which Sonya Paget established it. Reliable but not too fancy cooking with some nice touches - the amuse bouche of scrambled eggs and truffle was a lovely introduction to the evening - and it obviously still draws a good crowd even in the face of increased competition in the Bays.
The music which had irritated us a little on previous visits was under control and it is a comfortable venue with its awkward space well used. The wine list is sound, with The Sisters Marlborough sauvignon blanc being a particularly good deal.
Even for a bistro with little extravagance, the service is a bit patchy and doesn't quite match the rest of the act. The young staff are positively charming but their professionalism is, perhaps, a work in progress.
However, the occasional lack of attention did nothing to diminish an experience we thoroughly enjoyed.
Rating out of 10

Food: 8
Service: 6
Value: 8
Ambience: 7

Our meal: $165 for two entrees, two mains , two desserts and four glasses of wine.

Wine list: You would have to be churlish to think the selection is inadequate and there are some good choices.

Verdict: A convincing bistro-style act with sound food in a pleasant and busy atmosphere and providing reasonable value in these expensive times.