Herald Rating: 3/5
Address: 275 Onehunga Mall, Onehunga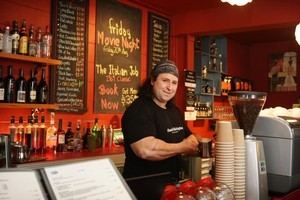 We came here because it was a favourite a few years ago and we wanted to introduce it to some friends who had never been.
Parking was very easy on the street out front. Alarm bells started to ring right about now - it was never this easy before ...
We walked in and immediately thought this place has changed. Gone are the booths and kitsch 50s decor, replaced with some odd bits of mismatched furniture and inoffensive artwork. Plus it was completely empty, never a good sign on a sunny Saturday morning.
The most unusual thing on the menu was the Croque Madame - toasted bread with ham, cheese and mayonnaise and a fried egg ($11.50).
We ordered a spinach, cheese and mushroom omelette which was very tasty but not so filling ($13.50), salmon scrambled eggs with bacon, a hash brown and a grilled tomato ($14.50) which was very generous on the bacon and salmon; and poached eggs, bacon, grilled tomato and a hash brown on Turkish pide ($13.50), which was fine except for the eggs being so overdone they were practically boiled.
The coffee was good enough.
The service was attentive, perhaps because we were the only people there.
We recommend if you come here take a big group, just in case you need to create a bit of atmosphere.
Overall we thought it's a shame that Ultra has abandoned its pre-loved, kitsch decor, as it was a real drawcard. However, the food is pretty tasty, and if there had been a bit more ambience, maybe it would have been just as good as it used to be.